Polyester Tapes and Films
Polyester Film, Polyester Tape and other PET Products
CAPLINQ is proud to offer its own LINQTAPE™ PET-Series brand of high-performance, flexible, polyester film for a range of applications.
High Performance Polyester Tape and Film
Polyester is a less-expensive material, but is limited to applications that have a maximum of 180°C. Therefore, it is preferred over polyester for applications up to 180°C. These applications include but are not limited to masking, temporary bonding, and splicing in industries that range from semiconductor, to automotive to general manufacturing. For applications that see temperatures up to 260°C, then you should use polyimide tapes and films.
LINQTAPE™ PET-Series films and tapes typically come in 33 meter (36 yard) length rolls of varying widths. and the base polyester film (backing) thickness range is between 1-mil (25µm) and 5-mil (125µm) thick. Other widths, lengths and thicknesses may be available upon request.
Read More about Polyester Tapes and Films

1 mil polyester film
Silicone adhesive
Single-Sided
1 mil polyester film
Rubber adhesive
Single-Sided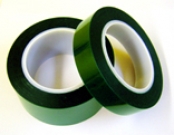 2 mil polyester film
Silicone adhesive
Single-Sided
---
Product Selector Guide
Polyester Tape & Film
CAPLINQ
Part#
X-Section


(click to enlarge)

Adhesive Type
[A]
Thickness in mil (um)
Peel Strength
N/25mm
(oz/in)
Temperature
Rating (°C)
Breakdown
Voltage (V)
Colors
Remarks
Polyester Backing Film
[B]
Total
[C]
Top of Page

Linqtape Polyester Tape & Film
Standard Length of Rolls is 36 yards (33 meters)

PET1S
 
Silicone
1mil (25µm)
± 3mil (70µm)
6.4 (38)
180°C
4200
Red, Blue, Yellow
Does not leave residue after removal
PET2S
 
Silicone
2mil (50µm)
± 3.5mil
7.3 (30)
180°C
7000
Red, Green, Yellow
Available in Red, Green and Yellow
PET1A
 
Silicone
5mil (125µm)
± 6.5mil (165µm)
7.1 (26)
155°C
4200
Clear, Yellow, Black
Heavy Duty. Dielectric Strength >19,000V
PET1R
 
Rubber
2mil (50µm)
± 4mil (100µm)
7.1 (26)
130°C
4200
Clear, Yellow, Black
Used in Flexible Printed Circuit (FPC) Applications
---
Learn More
Compare all Polyester Film or Polyester Tapes
Polyester film and tape vary widely in their composition and application. Polyester tapes may have silicone or silicone-free or adhesive, whereas polyester film has no adhesive. Polyester film can be as thin as 0.5 mil or as thick as 5 mil. Polyester tape can be single-sided or double-sided and may come with or without release liner. Our Polyester Tape and polyester Film Selector tool can help you choose the right polyester tape for your application.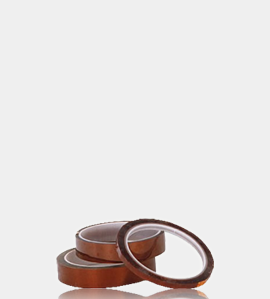 Polyester Tape Technical Papers and Brochures
Polyester Tape Technical Papers, Polyester Film Marketing Brochures, Polyester Tape and Polyester Film Technical Data Sheets, Polyester Tape MSDS. If these are what you are looking for, then this is where you should be.
Read our Blog on Polyester Film and Tape
Everyday, people just like you have questions about polyester tape and film. At CAPLINQ, we try to help people just like you by blogging about polyester films. From polyester film pricing to harmonization codes to product part numbers and leadtimes. We try to post as much information as we can on our blogs, to help you find more relevant information about polyester film.
Participate in our Polyester Tape Forum
Not getting the answers on polyester tape and polyester film you need from our blog? Are you tired of spending hoours searching the internet only to end up exhausted without the right answers? Post your polyester film question in our forum and attract like-minded professionals to respond.