White Reflective Compounds
Highly Reflective White Epoxy Mold Compound
CAPLINQ offers a range of highly reflective, white, non-yellowing epoxy mold compounds for led packages and other applications that require a high-performance non-yellowing compound.
Compare our White Epoxy Mold Compounds
There are many highly reflective, white epoxy mold compounds, depending on the application of means of processing. Use our online tool to select the best one for you.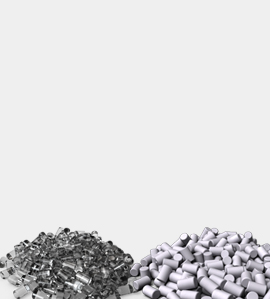 View Technical Papers and Brochures
White Epoxy Technical Datasheets, MSDS, brochures, market literature and any other technical papers or brochures on the subject. If these are what you are looking for, then this is where you should be.
Read our Blog on Optoelectronic Compounds
Everyday, people just like you have questions about optoelectronic compounds. At CAPLINQ, we try to help people just like you by blogging about epoxy compounds. From epoxy compound pricing to harmonization codes to product part numbers and leadtimes. We try to post as much information as we can on our blogs, to help you find more relevant information about epoxy compounds.
Participate in our Opto Compound Forum
Not getting the answers on opto compounds you need from our blog? Are you tired of spending hours searching the internet only to end up exhausted without the right answers? Post your opto compound questions in our forum and attract like-minded professionals to respond.
Highly Reflective White Epoxy Mold Compound Selector Chart
Please use the table below to select the product that best fits your requirements.
White Epoxy Mold Compound
Coming
Soon
Coming
Soon
Coming Soon
Coming Soon
Coming
Soon
Coming
Soon
Coming
Soon
Coming
Soon
Coming
Soon
Coming
Soon
Coming
Soon
Coming
Soon
Top of Page

SolEpoxy Clear Epoxy Mold Compounds
Sold and Serviced by Caplinq Corporation

HB2000
-
-
-
-
-
-
-
-
-
--
-
-
-
-
-
-
-
-
-
Read More about White Reflective Compounds