Electronics Assembly Adhesives & Inks
Electronics assembly adhesives are designed to aid in the manufacture of components and materials. These innovative adhesive products facilitate electrical interconnect, provide structural integrity, offer critical protection, and transfer heat for reliable performance. We're proud to offer products that improve today's electronic technologies and enable tomorrow's advances.
From Dual cure to UV and Heat cure and from single to multi component solutions there is a product for every given application. Our adhesives are being used in Industrial applications, in Packaging assemblies and in the Automotive and CMOS sensors industries. No matter your challenge, we can help you find a reliable, cost-effective solution, and support you throughout the entire life cycle of your project with a global sales and technical customer service team.
We offer Conductive and Non electrically conductive adhesives that can be used in a broad range of applications. They all deliver optimal performance on their respective applications. The combination of cure types, mix types and properties is endless while we strive to provide newer and better products every single day. Contact us with your application requirements to receive a product suggestions
Frequently Asked Questions
What do I need for a Fingerprint sensor bezel attach?
The key requirements for a fingerprint sensor bezel attach are a good and stable electrical coonection with the metal bezel that cures fast and in a low temperature while also having high adhesion to the metal.
Sounds demanding? Sure.That's why you might want to consider CE3103WLV with a fast thermal cure and high viscosity, ABP 2032S with low temperature cure and high adhesion or finally 2030SCR with lost stress and low temperature cure.
What is the lowest temperature cure adhesive?
Loctite 3220 is a non conductive adhesive designed to temperature cure down to 60°C. This multi purpose, one component epoxy typically fast cures in 5 to 10 min at 80°C. With 3 weeks work life at 30°C, it manages to have a high adhesion on FR4, Glass and many engineering plastics.
---
Learn More
Electronics Assembly Materials
Henkel's diverse portfolio of adhesive and sealant solutions includes advanced materials technologies to address today's most demanding applications. From electrically conductive and non-conductive paste adhesives through to thermally conductive dielectric materials, our product line achieves maximum performance and cost-efficiency.
Our electrically conductive and non-conductive adhesives are ideal for withstanding the thermal and physical stresses of Defense, Automotive, Medical and Consumer Electronic assembly applications, while our spot cure technologies enable high-speed assembly for RFID tags and other printed electronic devices. Non-conductive paste systems in the Henkel portfolio include a series of one- and two-part room temperature, thermal and UV cure adhesives for the ultimate in flexibility and performance.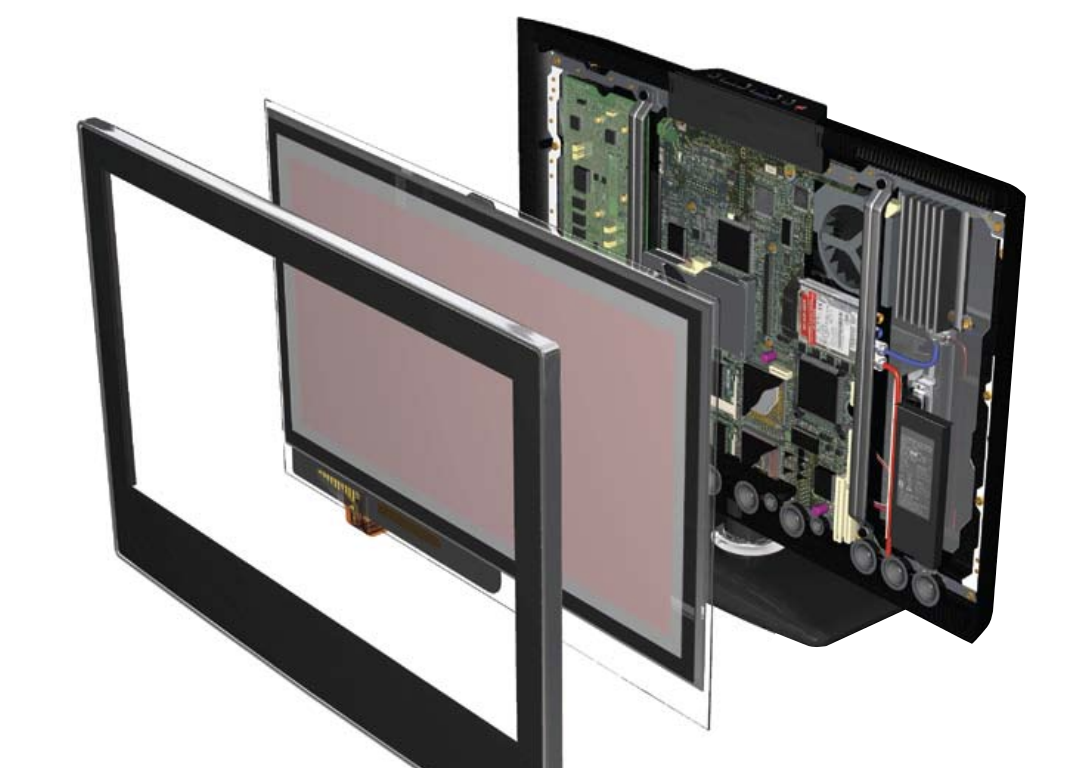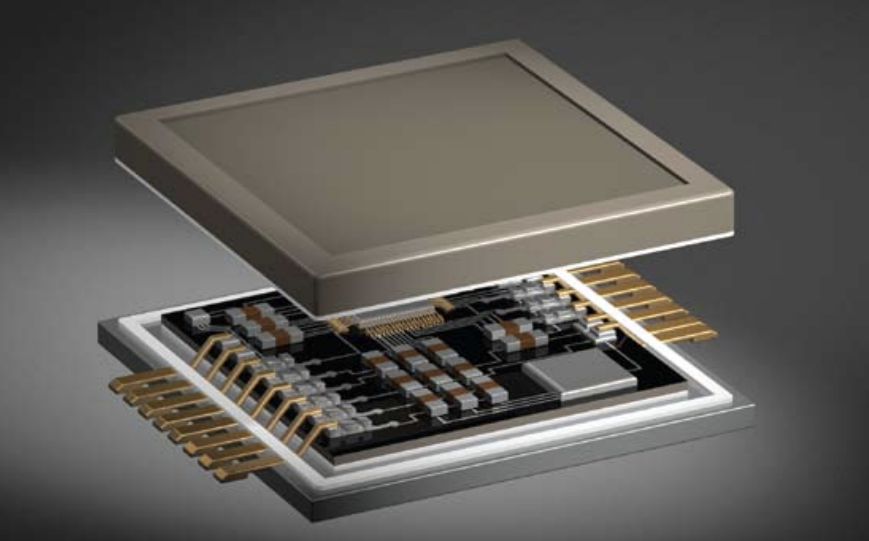 For manufacturers that require both adhesion and thermal dissipation functionality, our line of thermally conductive dielectric pastes are the most trusted and reliable materials on the market. Providing outstanding adhesion and thermal performance, Henkel offers both shimmed and nonshimmed formulations. For assembly specialists that require the utmost in accuracy, our shimmed adhesives contain engineered spacers for more precise bondline control.
Process flow of Assembly adhesives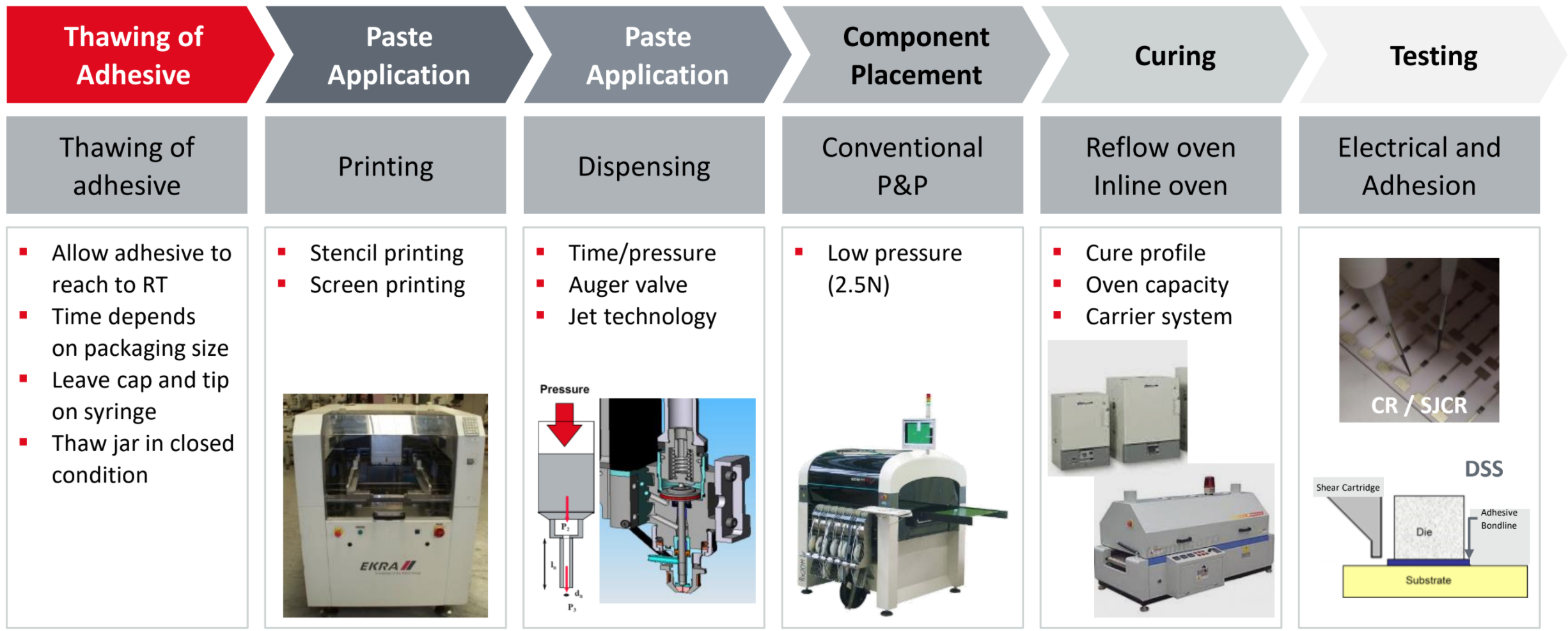 Composition of Assembly adhesives
Adhesives are made from three parts. Resin, filler and hardener. Those components are what provide the adhesives with their end properties and can be mixed to formulate a huge amount of products. Following up, we'll list the main pros and cons for assembly adhesives. Just remember that one man's trash is another man's treasure, so just because something is not great for assembly, it doesn't make it bad for all the other application types out there.
Polymer Resins
Resin

Features

Epoxy

•Workhorse in the industry

•Excellent mechanical, thermal and chemical stability

•Rigid to flexible systems possible

•Slow cure

Acrylic

•Used for fast cure/snap curing in high throughput applications

•Rigid to flexible systems possible

•Limited thermal stability

Bismaleimide (BMI)

•Low moisture absorption, low viscosities

•Expensive

Silicone

•High thermal stability and flexibility

•Low adhesion strength
Filler types
| Filler | Conductivity | Properties, application |
| --- | --- | --- |
| Carbon (C) | Low conductivity | Low density, cheap, used in ink products |
| Copper (Cu) | Low conductivity | Forms non conductive oxide, Ag plated copper |
| Nickel (Ni) | Electrical conductive | Anisotropic, low cost, toxic |
| Silver (Ag) | Highest electrical conductivity | Best choice for ECA: Chemically very stable, Ag2 O is conductive |
| Gold (Au) | High grade conductivity | "Rolls Royce", excellent reliability, used in Mars robot |
| Silica (SiO2) | Electrically non conductive | CTE control, viscosity/dispensing, used in underfills |
| Teflon (PTFE) | Electrically non conductive | Adds toughness |
| Alumina (Al2O3), Aluminum Nitride (AlN), Boron Nitride (BN) | Electrically non conductive | Thermally conductive |