Liquid Encapsulants
Liquid encapsulants are much more flexible than traditional Epoxy mold compounds, removing the need for expensive molding machines and molding plates. This way, they allow manufacturers to produce smaller and and more flexible batches, making the products better suited for diverse low quantity orders. Optical grade encapsulants can also have efficient application in LED encapsulation.

Encapsulants are primarily used to ensure environmental protection and boost the mechanical strength of wire bonded devices. They are developed to provide protection to wire bonds, leads and aluminum.

Encapsulants deliver unmatched performance for a variety of products including transistors, system in package (SIP) devices, ASICs, and chip-on-board applications. Cycle time and costs can be reduced through the use of glob tops. These materials for chip-on- board applications are designed to cure quickly to fit easily within high-speed manufacturing operations.

Liquid encapsulants are formulated and tested in-process and in the context of full package assembly. They meet the most stringent JEDEC-level testing requirements and are developed to deliver outstanding performance within high temperature lead-free environments. Caplinq offers a wide range of Liquid Encapsulants. We are proud to offer Henkel's entire LOCTITE product line but also our own LinqSil and Optolinq products.
Product Selector Guide
The table below gives a quick overview of our current leading products for liquid encapsulation. Please scroll below for the entire encapsulation range.
Leading Encapsulant Adhesives
 
FIL7010C
FP 4470
FP 4450HF
FP4802
FP 4651
FP 4653
FP 4451TD
DAM 7010C
Color
Black
Black
Black
Black
Black
Black
Black
Black
Viscosity
25,000
42,000
32,000
80,000
>100,000
>100,000
300,000
92,500
Silica Filler %
80
75
73
72
82
86
73
80
Max filler size, um
120
50
25
50
50
75
200
120
SVHC
FREE
YES
YES
FREE
YES
YES
YES
FREE
Ionics level, ppm
<10
<2
<2
<5
<5
<10
<10
<10
Tg by TMA, °C
135 - 145
148
164
50
150
150
150
135 - 145
CTE1
16
18
21
20
11
7
21
16
CTE2
58
65
72
100
50
NA
65
63
Cure time, min(2 steps)
60 + 60
30 + 90
30 + 90
30 + 90
60 + 90
150 + 150
30 + 90
60 + 60
Cure temperature °C
100 + 150
125 + 165
125 + 165
125 + 165
125 + 165
110 + 150
125 + 165
100 + 150
Pot life at 25°C
1
3
4
0.33
2
1
10
1
Shelf life at -40°c, months
6
9
9
9
9
9
9
6
Encapsulant Type
     FILL
DAM
Encapsulant Adhesives
Product
Apps and Attributes
Viscosity at 25°C (mPa.s)
Filler Type (Content)
Max Filler Size, um
Hardener type
Tg by TMA (°C)
CTE α1(ppm/°C)
CTE α2(ppm/°C)
Cure time (min)
Cure Temp °C
Dam
Loctite ECCOBOND 7010C DAM
Protection of bare IC, Well defined height
92,500
Silica (80%)
120
SVHC free
140 
16
63
60 - 60
100 + 150
Loctite ECCOBOND EO 7029
Smartcard encapsulation and die attach
48,000
-
-
-
110 
66
181
5
150
Loctite ECCOBOND FP4451TD
BGA and memory encapsulation. Highest aspect ratio for Tall Dam
300,000
Silica (73%)
200
Anhydride
150
21
65
30 + 90
125+165
Loctite ECCOBOND FP4451
Discontinued - No longer available
300,000
Silica (72%)
-
Anhydride
155
22
-
30 + 90
125+165
Fill
Loctite ECCOBOND 7010C FIL
Potting or encapsulation protection for stress sensitive components
25,000
Silica (80%)
120
SVHC free
140
16
58
60 + 60
100 + 150
Loctite ECCOBOND FP0087
Stress-sensitive devices and severe automotive environments
20,000 at 20 rpm
Silica (76%)
N/A
Anhydride
175
18
69
60 + 60
125 + 180
Loctite ECCOBOND FP4450
Discontinued - No longer available
44,000
Silica (73%)
120
Anhydride
155
22
72
30 + 90
125+165
Loctite ECCOBOND FP4450HF
Automotive, BGA, memory, COB, SIP and SmartCard
32,000 at 20 rpm
Silica (73%)
25
Anhydride
164
19
71
30 + 90
125+165
Loctite ECCOBOND FP4470
BGA, CSP, and full array on low temperature co-fired ceramic (LTCC)
48,000
Silica (75%)
50
Anhydride
148
18
65
30 + 90
125+165
Loctite ECCOBOND FP4650
High purity and low thermal expansion
325,000
Silica (83%)
-
-
140
15
-
60 + 120
120 + 160
Loctite ECCOBOND FP4651
Automotive, BGA, memory, COB, SIP, SmartCard and chip array ceramic packages
130,000 at 20 rpm
Silica (82%)
50
Anhydride
150
12
50
60 + 90
125+165
Locite ECCOBOND FP4653
Chocolate breakable on pre-scored ceramic substrate
85,000
Silica (86%)
-
-
150
7
-
120 + 120
110 + 150
Loctite ECCOBOND FP4654
Discontinued - No longer available
32,000 at 20 rpm
Silica (80%)
50
Anhydride
146
13
53
30 + 90
125+165
Loctite ECCOBOND FP4802
BGA, CSP and full array on low temperature co-fired ceramic (LTCC)
80,000 at 10 rpm
Silica (72%)
50
Phenolic
50
20
100
30 + 90
125+165
Loctite STYCAST A316-48
Automotive grade potting material with High Tg for sensors and control modules
50,000
Oxide 
-
Amine
145
55
155
30 + 120
100
Glob Top
Loctite ABLESTIK ME 995-1-4
Thermally conductive glob top
205,000
Silica
-
-
110
45
-
60
150
Loctite ECCOBOND EN 3838T
Low temperature cure PCB protection
6,700
-
-
-
2
57
217
8
130
Loctite ECCOBOND EO 1016
Encapsulation of smart cards and watch ICs
62,000
Alumina
N/A
Amine
126
46
140
20
150
Loctite ECCOBOND FP4323
COB and plastic PGA encapsulation
220,000 at 2 rpm
Silica (65%)
-
-
174
28
-
240 or 60
150 or 170
Loctite ECCOBOND FP4460
Automotive, BGA, memory, COB, SIP and SmartCard
300,000 at 10 rpm
Silica (75%)
120
Anhydride
173
20
70
180
150
Loctite ABLESTIK 8387BM
Discontinued - No longer available
14,000
PTFE, Silica
10
Hybrid Epoxy
122
88
168
5 or 60
150 or 100
Loctite ECCOBOND 50300HT
Wire bonded bare die encapsulation
130,000
Silica (68%)
150
Anhydride
140
20
-
60 + 60
120 + 150
Loctite ECCOBOND 50300-1
Wire bonded bare die encapsulation
100
Silica(70%)
-
-
140
20
-
120
150
Loctite ECCOBOND 50300LT
Wire bonded bare die encapsulation
55
Silica (69%)
-
-
140
20
-
120
150
Loctite ECCOBOND 50400-1
Wire bonded bare die on epoxy laminates
40,000 at 20 rpm
Silica(70%)
150
Amine
140
20
-
60 + 60
120 + 150
Loctite ECCOBOND FP4660
CSP and low stress applications
120,000 at 5 rpm
Silica (80%)
120
Anhydride
135
13
56
30 + 90
125+165
Loctite ECCOBOND UV8800M
Discontinued - No longer available
2,500 - 4,000 at 5 rpm
Silica (54%)
21
-
29
41
135
2 seconds
315 - 400 nm (UV)
Loctite ECCOBOND UV8800M-X
Discontinued - No longer available
3,400
-
-
-
47
48
149
30 sec
100 mW/cm2
Loctite ECCOBOND UV 9052
UV cure for inkjet applications
41,000
-
-
-
- 
-
-
5 - 10 sec
0.5 - 1 J
Loctite ECCOBOND UV 9060F
Protection of WLCSP and BGA
11,000
-
-
-
75
81
198
5 - 25 sec
 300 w/In
Loctite EO7021
CSP, BGA and SmartCard encapsulation
17,000 at 5 rpm
-
-
-
125
67
187
60 or 5
120 or 150
Loctite SI 5088
UV and moisture cure for gasketing and sealing on glass, metals and ceramics
65,000
Unfilled
-
Silicone
-
3
- 
Mix
Mix
Loctite SI 5293
UV cure silicone for PCB protection
-
-
-
Silicone
-40
300
-
-
-
Loctite STYCAST 2851FT
Solvent free encapsulant
85,000
-
-
-
-
31
-
60
120
Loctite STYCAST SC3613
LED display coating and IC hybrid passivation
3,500
Unfilled
-
Silicone
-
-
-
30 + 60
120 + 150
Loctite STYCAST U2500
For transformer PCBs and insulation apps
6,000
Polyurethane
-
-
-53
155
-
240
60
---
Frequently Asked Questions
Do you have UV cured silicons with high refractive index?
We don't have any high refractive index materials that cure with UV. The reason is because the UV activators needed to cure the material limit the transmission of the material. Furthermore, the UV exposure to the silicone damages the silicone itself, making it go yellow which further reduces the transmission.UV-cured silicones are usually not suitable for high transmission, high refractive applications.
What are PCB/Component protection encapsulants?
PCB protection encapsulants are used to protect passive components such as capacitors and resistors from dust, moisture and mechanical impact. LOCTITE ECCOBOND 3838T, a black color epoxy with low modulus to minimize stress on chip cap and UV9060F, a light blue UV acrylate with moisture cure that cures in shadowed areas are the first PCB protection encapsulants that come to mind.
Alternative, more or less colorless, options can be the tried and proven ABP 6892, the clear silicones 8035 and STYCAST SC 3613 and finally the UV/Heat Dual cure LOCTITE 3217. Quite a lot of options depending on your package.
It is also likely that you would need a DAM if you want the encapsulant to stay on the PCB. In this case we can recommend the black ABP 8420 epoxy or the black ABP 8142B silicone. Other potential candidates can be the more thixotropic LOCTITE 3621 red epoxy and LOCTITE 3217 that can be uv cured before the fill operation.
What causes bubbles in my Encapsulant?
You might be tempted to think that in the off chance you see bubbles in the encapsulant, the material is the one to blame. Sometimes this might be the case but most often than not it isn't. To be more precise, outgassing can be an issue in solvent based materials. The moisture from the solvent evaporates and bubbles are formed. BUT this cannot really be the case in most encapsulants such as FP4450 and FP4451TD that are 100% solid systems without any solvents. Outgassing levels are very, very low - which is also why they are used in aerospace and defence applications. In these cases the bubbles are coming from the SUBSTRATE rather than from the encapsulant.
Many laminate substrates are very moisture sensitive and absorb a lot of moisture over time (especially in uncontrolled humidity environments where the temperatures are warm). When you apply encapsulants such as FP4450 to these substrates, what you are seeing is not outgassing from the material, but rather, moisture escaping from the laminate and being trapped between the epoxy without being able to escape. But fret not. This can be avoided with prebaking.
What is substrate prebaking??
Prebaking is a preheating process that removes the moisture from substrates that have been previously exposed to humidity. Any laminate left exposed for a long period of time should be "prebaked" to remove moisture prior to application
Typical "prebaking cycles" are 100C for 1 hr or similar - it should be above 100C to let the moisture evaporate
Once the substrates are prebaked you can follow the recommended dispense and curing steps on the TDS
If you don't want to prebake, you can store the substrates in a "dry box" which is a nitrogen environment once arrived to keep moisture from absorbing
If you don't want to prebake or store in a dry box (you should and you should) then you CAN try to also do a lower temperature step-cure like 30mins @ 125C + 90mins @ 165C (advise the TDS depending on the specific material).
How do I know when my product is fully cured?
We expect that all the materials are fully cured after the recommended cure schedules in the TDS. You could perform DSC cure kinetics on the material, to ensure that the material is completely cured.
How many Volts can liquid encapsulants typically withstand?
Typical silica filled encapsulants will withstand 500 to 1000 volts/mil (20 to 40 kV/mm). So if, for example, 1400V is the operating voltage, the gap between electrodes should be around 3 mil or 75micron. Therefore, we need to verify the gap between the electrodes (not the thickness of the encapsulant) to make a judgement if the encapsulant can protect against this voltage .
---
Learn More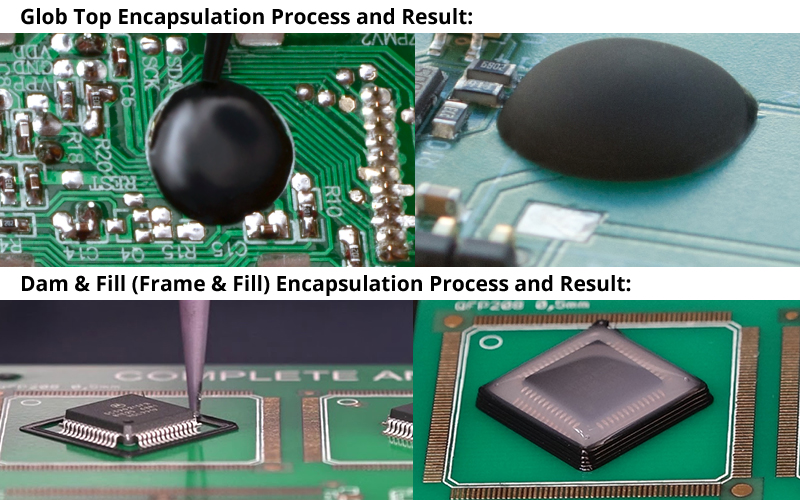 Liquid resins are used in two main ways in encapsulations processes: glob top and dam & fill alternatively known as frame & fill
Epoxy Mold Compound vs Liquid Encapsulation
There are two main ways to encapsulate a semiconductor device: transfer molding a thermosetting Epoxy Mold Compound (EMC) or using liquid encapsulation directly on the Printed Circuit Board (PCB). Encapsulation in EMC is better than liquid encapsulation for applications that require higher filler content, and for the same reason, volume for volume, EMC is usually cheaper than liquid.
Liquid encapsulation, on the other hand, has a high flexibility and low through put
Liquid casting is however much more flexible. EMC requires are large significant investment in molding machines and mold plates for specific devices which must produce large quantities before there is a return on that investment. Liquid encapsulation on the other hand has a high flexibility and low through put: meaning that it is best suited for a multiple diverse low quantity orders.
In general liquid encapsulation is used for LEDs and potting or encapsulating electronics in bare die mounting on printed circuit boards (PCB), otherwise known as chip on board (COB).
Another advantage of potting and encapsulating devices in liquids is that in general, the result is flatter and thinner than devices encapsulated by a transfer molding process around a lead-frame with EMC. The space requirements for devices will continue getting more and more stringent as the component density of devices increases. This trend makes encapsulation and potting in liquids a sure bet for the future.
Transfer molding EMC may also cause wire sweep: where the pressure of the flowing molten compound shifts the fine-pitched bonding wires connecting a die. Wire sweep can cause shorts and mutual inductance. Liquid encapsulation is applied from above and does not disturb bonding wires. That's why it is the industry standard for larger or extra sensitive dies and chips.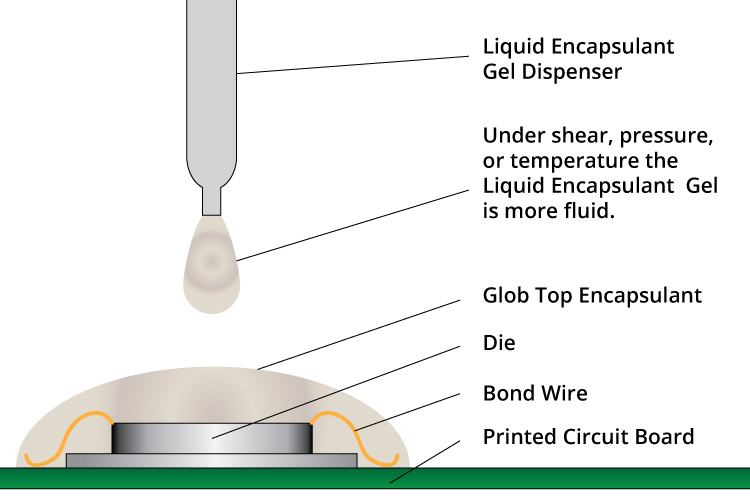 Liquid resin encapsulation via the glob top process is a single step application process but is less precise than dam & fill
Liquid Epoxy: Viscosity and Thixotropy
Bare die may be mounted to the PCB with die attach but that's not enough to protect them or their connecting wires from moisture, mechanical stress, temperature, and chemical corrosion. That's why it makes sense to insulate and encapsulate them with a protective potting layer of liquid encapsulant.
The low viscosity of liquid encapsulants is good for flat smooth finishes.
In non-Newtonian thixotropic encapsulants thixotropy refers to the temporarily lower viscosity of an epoxy gel when shear, pressure, or temperature is applied. This means that they can be gel-like when at rest, but flow like a liquid when agitated.
Being able to control the viscosity of liquid encapsulants means you can dial in how far they will spread over a surface area, and also how high they will build up to. This is important in Glob Top encapsulation where devices are literally encapsulated by a "Glob" from above.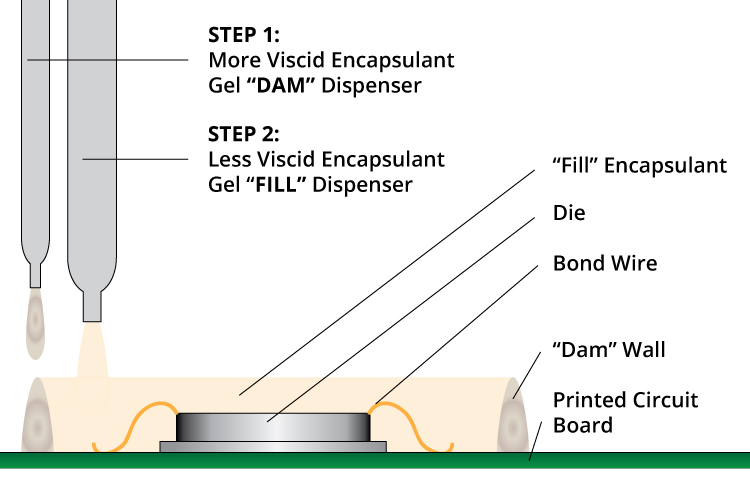 Dam & Fill or Frame & Fill is a two step encapsulation process that is a little like 3d printing
Glob Top vs Dam & Fill
Glob Top is a process of encapsulation by using a fluid encapsulant gel with higher viscosity so that it fully encapsulates a device without flowing beyond the necessary area. As mentioned, by controlling the temperature, shear, and pressure, the viscosity and flow of liquid can be adjusted so that the final surface area and height of the "Glob" can be controlled quite effectively.
Dam & Fill on the other hand refers to a two-step process of encapsulation, where a ring or frame of higher viscosity liquid encapsulant is applied as a "Dam" around a device, and then a lower viscosity liquid "fill" is used to then fully encapsulate a device. The liquid used to build the frame or dam usually has more abrasive filler and a higher viscosity at rest than the liquid used for the fill.
Dam & Fill is a more selective protective coating and can be framed to cover areas in specific shapes, and is for example also used for optical bonding. In optical bonding the frame or dam is used to create a space between the glass and the display or touch screen. Then an optically clear fill is used as an adhesive and fixative.
Liquid Encapsulation for LEDs and Optoelectronic devices:
Optically clear liquid encapsulation is also used for LED devices, and encapsulate optical or optoelectronic devices that require both a high level of light transmittance as well as a good level of mechanical protection. In a similar process to Glob Top encapsulation, a literal glob of clear encapsulant is dropped directly into place on top of the LED. In another production process, optically clear liquid encapsulant is used to cast LED's final body. Phosphor, colored dyes, and diffusant concentrates can be added to the liquid encapsulant to alter its optical properties.