General Lighting
Made popular of their efficiency, range of color, and long lifespan, LED lights are ideal for numerous applications, including night lighting, art lighting, and outdoor lighting. These lights are also commonly used in electronics and automotive industries, signage, and many other uses. (Source) LEDs could be generally categorized into through-hole type and surface mount type by packaging. Modern high-power LEDs such as those used for lighting and backlighting are generally found in surface-mount technology (SMT) packages. Low power decorative RGB LEDs often go with through-hole packages. Application requirements depend on package type, power level, and applied scenarios (outdoor, indoor), etc.
Mid Power White LED Applications:
Junction temperature is 85°C-125°C; Package: 0.1W – 0.5W;
Replaces more expensive alternative (silicone) as encapsulant
Stability against heat & UV
Highest transmittance in visible & IR wavelengths; Earliest transmittance onset (280 nm)
Recommended products: Check TC-8030/TC-8040/TC-8060
Other Considerations --- Indoor vs Outdoor Application:
Indoor uses diffusant while outdoor uses a low reflectivity (reduce glare)
Indoor Packages: 1010,2121,3528; Outdoor Packages: 3535 & 5050
Outdoor requires UV resistance (sunlight) & low moisture absorption (weather resistance)
Outdoor applications must pass these tests:

85°C /85%RH + 3x 260°C reflow
Thermal Cycle tests: -65°C to 150°C for 200 cycles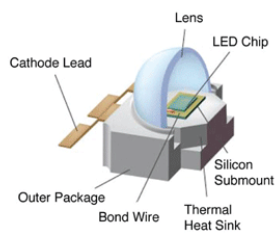 Low Decay Product Solutions
TC-8030/TC-8040/TC-8060 series are mainly used for packaging of white decorative LEDs and backlight LEDs, etc. Higher chemical stability makes their excellent anti-yellowish performance at high temperature and reduces light decline by blue/white light. The excellent adhesion to Ag/Cu and PCB substrate ensures their good moldability and higher reliability. We provide two optional forms: cylindrical tablets, and fine powder.
Products for General lighting White LEDS
Product

TC-8030

TC-8060

(Popular Product)

TC-8090

(In Development)

Summary

Excellent anti-yellowish performance at high temperature

Reduced light decline by blue/white light

Excellent adhesion to Ag/Cu and PCB substrate

Good moldability and higher reliability

Two optional forms: cylindrical tablets, and fine powder

Applications

Decorative White LED

Backlight

High Reliability

Backlight

Light Decline

Aging Test

Low

<50%

RT*20mA*500hrs

High

<10%

RT*5mA*1000hrs

Reliability Tests

Reflow, TCT, 85℃@85%RH

Highlight

Low blue-ray decay

Anti-moisture
Thermal management of General lightning LEDS
Accelerating powder densities has become the trend of electronic industries. With greater functionality and package shrinkage, power consumption of a device increases, so does the device temperature. This puts higher requirements on heat dissipation. Besides, pursuing a long product lifetime with high reliability is always the goal. It is the same situation for the LED electronics industry.
LED lighting manufacturers claim that their products have a lifespan of 50,000-100,000 hours or 10-20 years. However, in most cases, the number only indicates the lifetime of LED light sources, which is not equal to the lifetime of the LED lamp. Only when its LED light source is paired with characteristically matched LED drivers and a high efficiency thermal management system can an LED light have an operation life as long as that of the LEDs. When electrical current is passed through the semiconductor junction, only less than 60% of the electrical energy is converted into light and the residual energy is released as heat. Poor thermal management can accelerate the aging process of LEDs and lead to premature failure of driver circuits. Meanwhile, the LED market keeps growing, in which the advanced package types and high-power LEDs have increased a lot. The thermal design is critical to optimize LED performance, the targets are: Higher Efficiency and Longer Reliability.
Thermal interface materials are used between the PCB or LED substrate and the heat sink in order to dissipate heat away from the LED, in turn reducing the junction temperature and prolonging the life of the LED. The choice of thermal interface material will also depend on the operating environment and power of the luminaire. Silicone and non-silicone options are available as well as mid-range and high thermal conductivity options. The challenges for TIMs in LEDs are from two aspects:
Thermal Performance
Minimize thermal impedance
Junction temperature control from substrate to heatsink
Stability and reliability
Able to pass harsh test conditions (thermal storage, power cycling)
Stable long-term thermal performance
Thermal management for LED lighting systems calls for a total system approach. Aside from operating the LEDs with an optimal drive current to prevent excess thermal conversion, an efficient thermal conduction path from the die to the ambient environment must be created. The thermal resistance of the components along the thermal path needs to be reduced to a minimum to ensure the junction temperature is kept low under all drive and operating conditions, while other thermally sensitive components and circuits are not loaded with waste heat. LED package design, circuit components reliability design, substrate and heatsink design and construction are all essential elements to be considered in a thermal design. Apart from those, thermal interface materials (TIM) are critical components, seen the structure above.
Among all types of thermal interface materials, phase change materials are the most popular products helping tackle those challenges. The key properties
Excellent Thermal Performance

High thermal conductivity (up to 8.5 W/mK)

Optimal Surface Wetting to decrease Contact resistance

Ultra-low BLT ~ 20um with low thermal impedance (0.04 ˚C·cm2/W)

Phase change phenomena to fill up microscopic voids and cavities
High Reliability and Long-life (Check reliability report)

Advanced additive-polymer technology with superior intermolecular force and limited material mobility

No bleed-out, pump-out and dry-out issues thanks to robust polymer structure

Stable performance across accelerated aging test (3000hrs @150 °C HTB, 1000 cycles @-55°C~125°C TC )
Manufacturability

Easy assembly & broad process window

High yield with low/zero material waste

Pad and paste form available
Phase Change Material LTM6300-SP For LED/LCD Application
LTM6300-SP is the entry level Honeywell's thermally conductive phase change Stencil printable paste designed for LED/LCD application. This paste is designed to minimize thermal resistance at interfaces and maintain extremely stable performance through reliability testing required for long product life applications. It is a good replacement for your currently using thermal grease.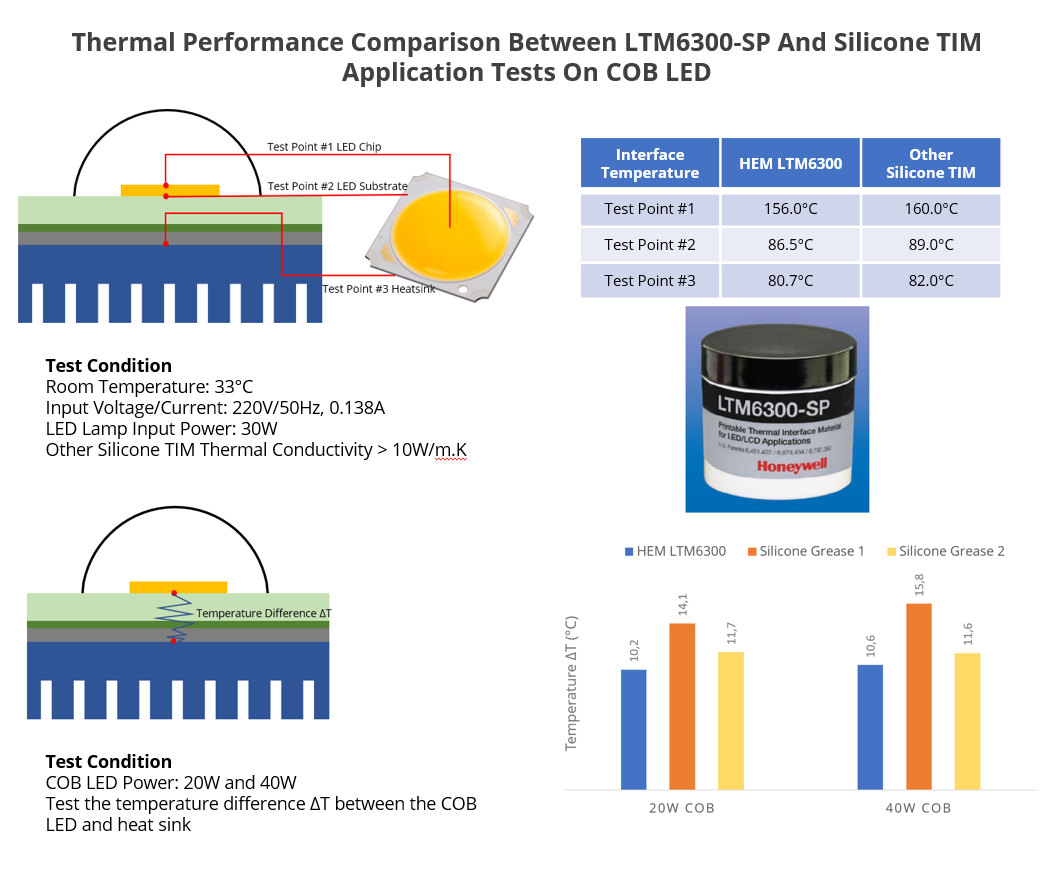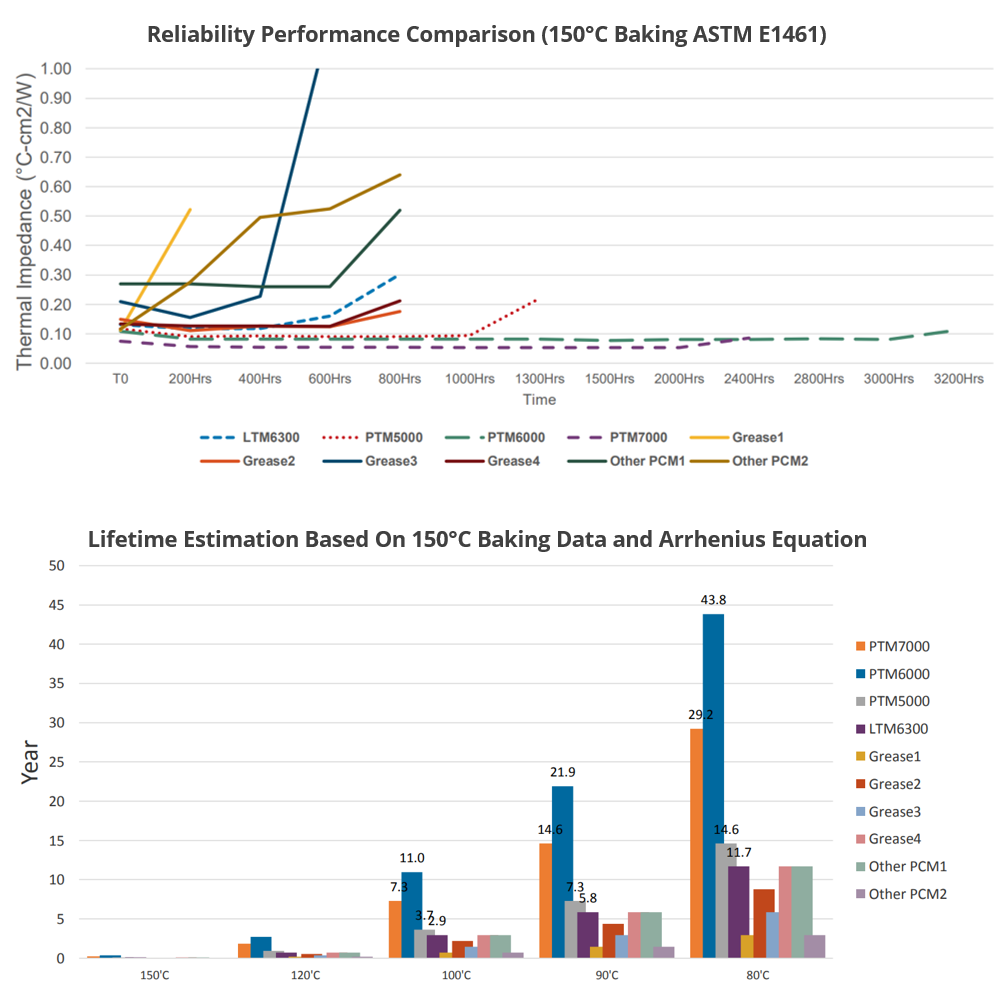 Phase Change Materials For High Power LED
While the LED market is expanding, there increase advanced packages like COB and CSP, also high power arrays LED. Check the whole phase change material portfolio for LED applications.

Application Classification
Product Series

Thermal Impedance (˚C·cm2/W)

Thermal Conductivity (W/mK)

Reliability (hrs @150°C Baking)

Comment
High End Products (General illumination products, automotive forward lighting)
0.04 - 0.06
6.0 - 8.0
2000
High Thermal Performance
0.06 - 0.08
4.0 - 5.2
3000
Advanced Reliability
Mid Range Product (Automotive lighting, bay lighting)
PTM5000
0.06 - 0.08
3.5 - 4.5
1000
Entry Level Product (backlighting, indicators, signs, signals)
PTM45F
0.09 - 0.12
2.0 - 2.5
800
Cost Efficient
LTM6300-SP
0.12 - 0.14
1.8 - 2.4
600
Paste Only