Temperature Data Loggers
Temperature data loggers are small, easy-to-use, reliable temperature data logging systems at affordable prices. Data loggers automatically collect and store information about the environment in which your goods travel. They can be monitored at the end of the shipment or even live via a cloud platform.
The data logging systems monitor temperature and collect and store this information so that they can be reported live or at a later date. Our loggers are either USB that can be connected directly to a computer and generate a PDF report without proprietary software, or tiny battery like devices that can fit anywhere and need an adaptor to connect.
You handle Cold, frozen or dry ice supply chains? We have specially designed monitoring devices for each case. Different kinds of devices can measure temperature, humidity, impact, light or location. These are preconfigured or programmable devices, ready to use with the push of a button. We are currently developing loggers with wifi, bluetooth and GPS tracking so reach out to us with your supply chain requirements.
Product Selector Guide
Temperature and Humidity Data Loggers
Product
Series
Technical Specifications
Comments
Use
Output
Interface
Readings
Interval (min)
Recording Cycle (days)
Temperature Range
Smartlinq TDL90 v2
Single
PDF
USB
10,000
15
90
-30°C to +70°C
Low cost and reliable
Tempmate S1v2
Single
PDF, CSV
USB 
16,000
10
110
-30°C to +70°C
 
Tempmate S1v3
Single
PDF, CSV
USB 
31,200 
10
200
-30°C to +70°C
 
Tempmate-GS
Single
PDF, CSV
Cloud
15,600
10
90 
-30°C to +70°C



Humidity

GSM tracking

Tempmate-M1
Multi
PDF
USB
32,000
Set
Set
-30°C to +70°C
Replaceable battery
Tempmate-B1
Multi
TempIT
Adapter
2,048
Set
Set 
-40°C to +85°C
 
Tempmate-B2
Multi 
TempIT 
Adapter
8,192
Set
Set 
-40°C to +85°C
 
Tempmate-B3
Multi 
TempIT 
Adapter 
8,192
Set
Set 
0°C to +125°C
 
Tempmate-B4
Multi 
TempIT 
Adapter 
8,192
Set
Set 
-20°C to +85°C 
Humidity
Tempmate-B5
Multi 
TempIT 
Adapter 
8,192
Set
Set
15°C to +140°C
 
Tempmate-i1
Single
N/A
N/A
N/A
 N/A
180
Variable
LED Indicator
---
Frequently Asked Questions
---
Learn More
Applications for Data Logging Systems

Data loggers are used in many industries and for many critical applications including:
Epoxy and Chemical Transportation

Pharmaceutical Transportation

Blood Transportation

Vaccine Delivery

Food, Meat and Dairy Transport

Flowers, Plants & Trees

Varnishes
Easy to use
Temperature data loggers are ready to use, preconfigured devices that can connect automatically to the USB port of any computer and auto generate a PFD report.

Multiple solutions
There are data loggers and indicators for multiple use cases. Whether you want a disposable indicator, a single use temperature data logger or a multi use temperature and humiditiy data logger, we have a solution for you.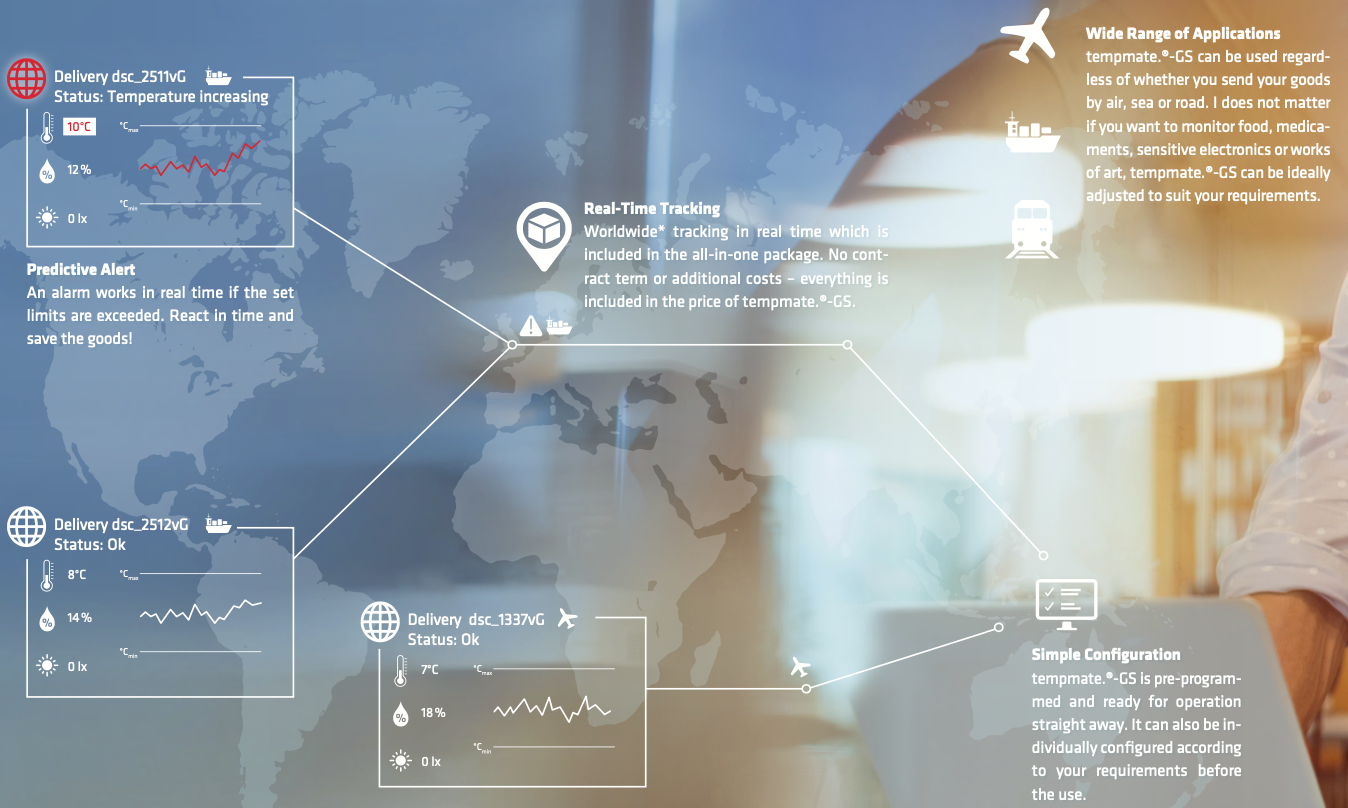 We offer products such as tempmate-GS with real time temperature, humidity, light, impact and location tracking that can be monitored via a cloud platform. Logistics are complex and multi faceted, and so are the data logger options that we provide