Smartlinq v2.0 | USB Temperature Data Logger
Smartlinq v2.0 | USB Temperature Data Logger
Harmonization Code : 9031.90.90.95 |
Parts And Accessories For Measuring Or Checking Instruments, Appliances And Machines
Main features
-30°C to +70°C
Single Use - 90 Days recording
USB - Automatic PDF report
Product Description
*NOTE: When ordering from stock minimum guaranteed battery life is 12 months. If you need guaranteed 24 months battery life we need a minimum order of 200 loggers*
Reliable, Low-Cost, Single-Use USB Temperature Logger for Easy Monitoring of Logistics Cold Chain
CAPLINQ introduces Smartlinq®, your reliable, low-cost solution for your refrigerated or frozen supply chain. The package couldn't be more simple - just press and hold for 3 seconds and go! This single-use, disposable USB stick is packaged in a moisture-resistant plastic packaging, keeping the electronics safe from humidity until it has safely arrived at its destination. Once arrived, your customer simply presses and holds the device for 3 more seconds to stop the logger. Your customer then opens the plastic packaging and plugs the USB drive into any computer. The entire temperature history is provided in a PDF Report located on the USB drive. Smartlinq v2 is an improved version with an extended shelf life of 24 months.
Applications for Single-use USB Temperature Data Loggers
SMARTLINQ TDL90 v2 temperature data loggers are used to track temperature data during transport of your goods. Because of its wide temperature range and high quality packaging it can be used for many goods including (frozen) food and agriculture, biomass and pharmaceuticals and chemicals.  Single-use data loggers make sense whenever it is too complicated or too expensive to get the devices back and to reuse them. Smartlinq disposable loggers are the perfect solution for export shipments of any temperature-sensitive product. Applications of USB temperature data loggers include but are not limited to the temperature measurement during the transport and/or the storage of:
Frozen or Refrigerated Food
Fruits or Vegetables
Biomass
Pharmaceuticals
Chemicals, Epoxies, Varnishes, and/or Adhesives
Blood Transportation
Vaccines, Vaccinations (ie. COVID-19)
Flowers, Plants & Trees
Technical Specifications
General Properties
Auto PDF Generation

Auto PDF Generation
PDF (Portable Document Format) will convert a generated document into a pdf file

Yes
Battery Included
Yes
Battery Type

Battery Type
Specific types of battery that can vary from Nickel Cadmium, Nickel-Metal Hydride, Lead Acid Battery, Lithium Ion battery and more.

3.0V Lithium Battery
Color

Color
The color

Multi
Connection Interface

Connection Interface
Is an interface between two pieces of equipments that functions such as passing messages, connecting and disconnecting, etc.

USB2.0
Data Storage Capacity

Data Storage Capacity
The amount of readings that can be stored in the device

10000 readings
Number of Uses
Single-Use
Recording Cycle
90 days
Recording Interval
15 min
Software
PDF Reader
Startup Mode
Press Button
Stop Mode
Press Button or Data Limit

Shelf Life

Shelf Life
Shelf life is the amount of time after manufacturing that a product is guaranteed to retain its properties.

It differs vastly per product and it is based on temperature and storage conditions.

The properties can be guaranteed for the temperature and time range indicated on the TDS since those are the ones tested to be the best for the product.

Shelf Life @ 15°C
>18 months

Thermal Properties
Temperature Accuracy
0.5/1.0 °C
Temperature Range
-30 to 70 °C
Temperature Resolution
0.1 °C
Other Properties
Certifications

Certifications
Confirmation of tested functions, characteristics of a product.

EN12830, CE
RoHS Compliant

RoHS Compliant
RoHS is a product level compliance based on a European Union Directive which restricts the Use of certain Hazardous Substances in Electrical and Electronic Equipment (RoHS).

Products compliant with this directive do not exceed the allowable amounts of the following restricted materials: lead, mercury, cadmium, hexavalent chromium, polybrominated biphenyls (PBB) and polybrominated diphenyl ethers (PBDE), with some limited exemptions

Yes
---
Additional Information
SMARTLINQ TDL90 v2 data loggers are temperature data loggers with a 90 days recording cycle and a 2 year battery life. You can use the temperature data loggers in a wide range of temperatures starting from -30°C up to 70°C. The SMARTLINQ TDL90 v2 temperature data loggers have a high data capacity of 10000 readings, that allows you to track temperatures using only one logger even on long transportation routes.
The one thing that SMARTLINQ TDL temperature data loggers all have in common is that they are very easy to use. The SMARTLINQ TDL90 v2 data loggers are controlled with only one button. Pressing this button for 3 seconds will start recording and the recording cycle will end when pressing this button for 3 seconds again.
The SMARTLINQ TDL90 v2 temperature data loggers are protected from the environment by their waterproof packaging. Because of this waterproof packaging the SMARTLINQ TDL temperature data loggers can be used in almost any transportation. The packaging is food grade, which means the data loggers can even be placed directly between your food products.
When the SMARTLINQ TDL90 v2 temperature data loggers are plugged into a computer they will start generating a pdf report with a table of all temperature readings and an easy to read chart. In this chart you can see the course of the temperature mapped out over transport time.
SmartLinq 2.0 Temperature Data Logger Handling Instructions
CAPLINQ Smartlinq 2.0 Temperature Data Loggers can be used to track the temperature of your goods during transport. As a data logger, the SMARTLINQ Temperature Data Loggers 2.0 are very easy to use, because of their single button operation. These handling instructions explain how to use the Smartlinq 2.0 Temperature Data Loggers.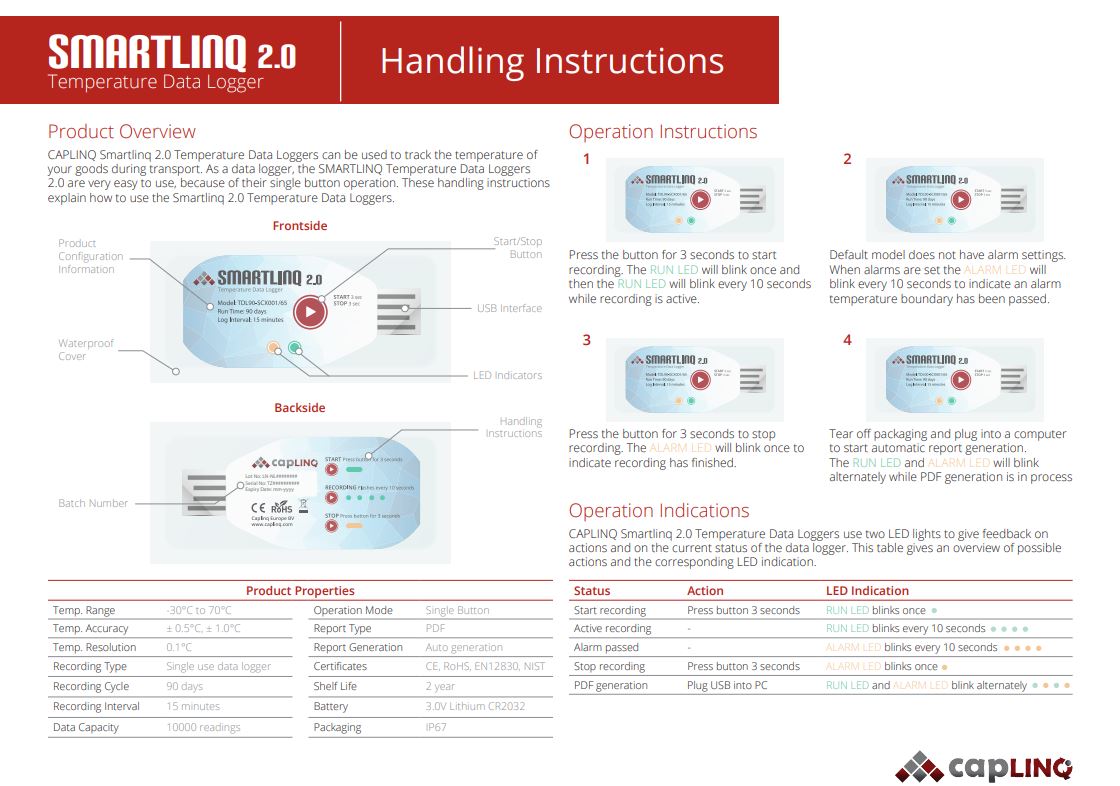 SmartLinq 2.0 Temperature Data Logger Data Graph Output
Following an example of the 2-page pdf output data log graph that is generated. The first page is the graph.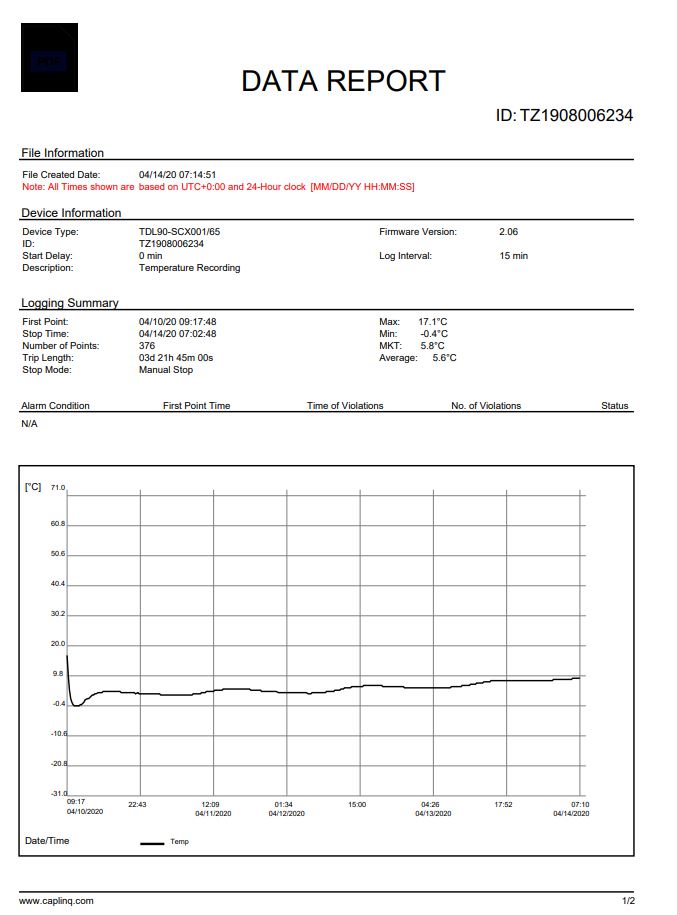 SmartLinq 2.0 Temperature Data Logger Data Graph Table
Following an example of the 2-page pdf output data log graph that is generated. The second page is the data in tabular form.