Intelligent Power Module
Application Introduction
IPM (Intelligent Power Module) is a high-performance module that mounts a dedicated drive circuit for drawing greater performance from an IGBT chip, and it provides a custom IC for executing self-protection functions (short circuit, supply under voltage, and over temperature). Intelligent power modules are widely used in motor control such as industrial motor drives, but also in uninterruptible power supplies, inverters, and renewable energy systems. Typical applications are like:
Home appliances: fans, air purifiers, washing machines, air conditioners, refrigerators, vacuum cleaners
Industrial: pumps, compressors, HVAC, elevators
Automotive: AC compressors, oil pumps, on-board charging in electric vehicles
An IPM incorporates a control IC that has an IGBT drive circuit and a protection circuit. Thus, it is highly integrated as: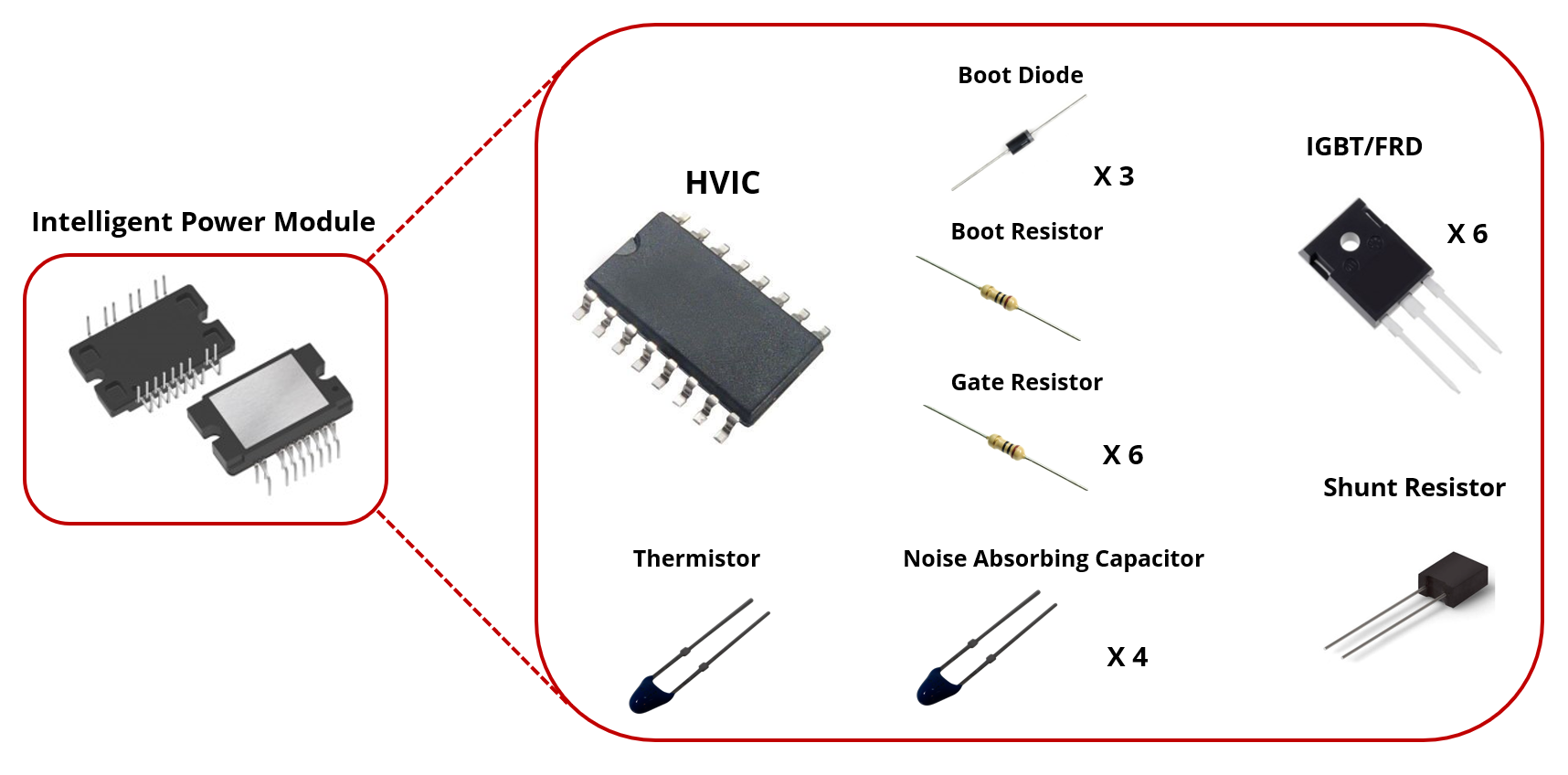 There are several package designs of IPM according to the size. Take Mitsubishi Electric's modules as example: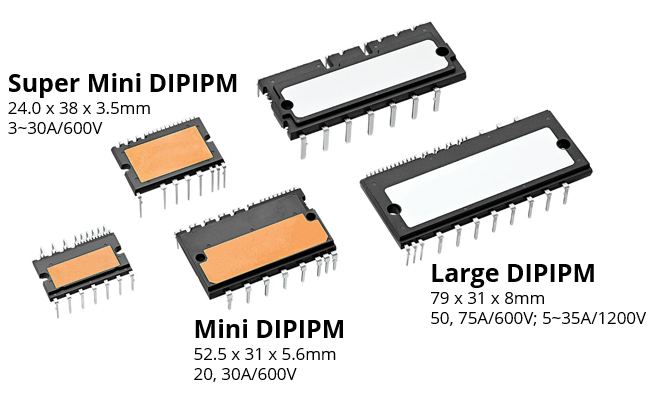 Speaking of power module, you may be familiar with discrete module devices with TO package, such as SiC MOSFET or 6-in-1 power modules used in Power Inverters, According to "Power Module Packaging 2018: Material Market and Technology Trends report" by Yole Développement, the different packages of power module devices (discrete TO package, IPM, 6-in-1 power modules) are applied in different applications based on power needs and integration requirements.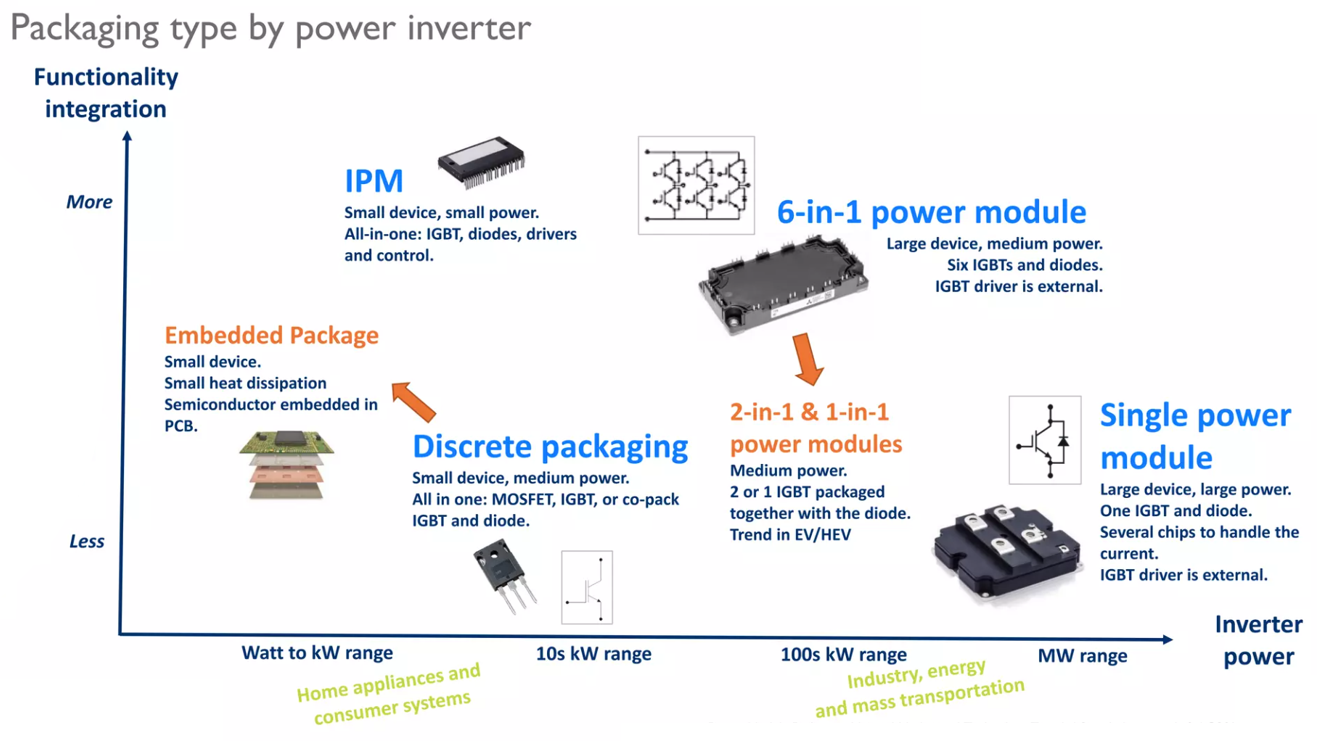 IPM Encapsulation Solutions
IPM Package Types
Based on the design of power modules, the encapsulation solutions are transfer molding encapsulation using Epoxy Molding Compound and direct potting using Liquid Encapsulants (epoxy resin or silicone resin). For IPM, due to its highly integration, EMC molding is widely adopted. The internal structure depends on IPM sizes. See Mitsubushi IPM series design at the right figure.
Power Module Encapsulation Solutions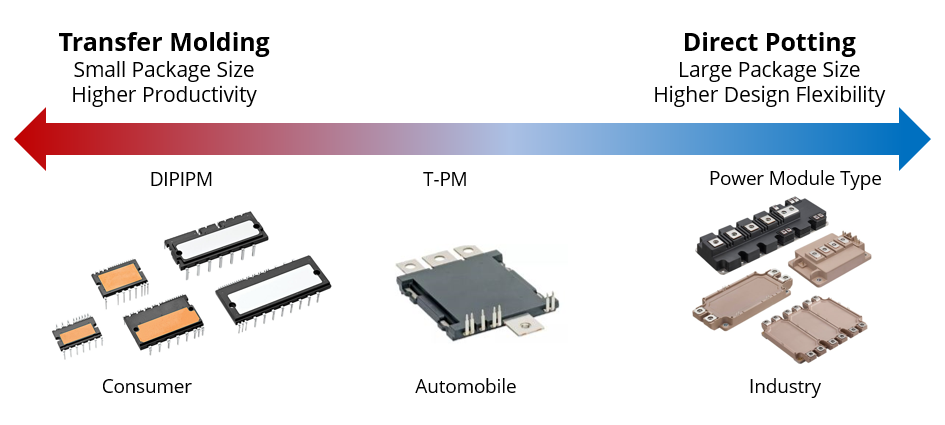 Internal structure (clockwise): SLIMDIP, Super Mini DIPIPM, and Large DIPIPM (Source: Mitsubishi)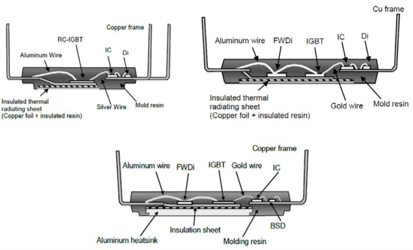 Epoxy Molding Compound For IPM Application
Hysol has developed different series (GR60 series, GR600 series, GR750 series, etc.) for IPM application. Highly conductive versions are also in development.
GR60 Series For IPM Application
Hysol GR60 series products are highly thermal conductive molding compounds designed for IPM applications. Both GR60 HT and GR60 PT are dedicated to module package with excellent workability and reliability, suitable for long wire or large body device. The key common features of GR60HT and GR60PT are:
Workability
No wire sweep
Warpage control
Wide molding window
Great peformance
Good electrical stability during tests
High thermal conductivity
Flammability rating UL94 V-0 @1/8 inch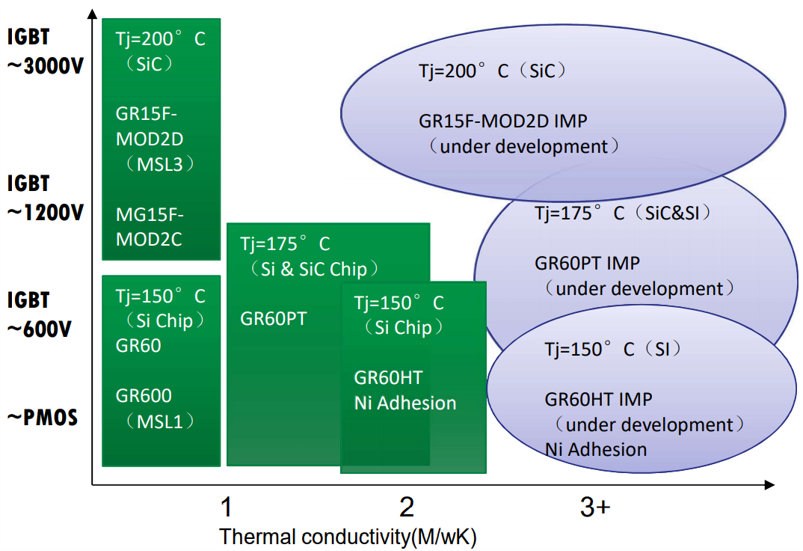 Meanwhile, they have their own unique features to meet niche requirements for your module. The differences between GR60 PT and GR60 HT:
Thermal conductivity: 1.7 W/mK (GR60 PT) v.s. 2.2 W/mK (GR60 HT)
Good adhesion to: Cu & Au surface (GR60 PT) v.s. Cu & Au & Ni surface (GR60 HT)
Others: high cost-efficient (GR60 PT) and good moisture resistance (GR60 HT)
Silicone Potting Resin For IPM Application