Electrically Conductive Adhesives
Electrically Conductive Adhesives
Electrically Conductive Adhesives (ECAs) have been used for high-reliability applications such as automotive, medical and telecom products, but we also offer Electrically conductive adhesives that are non-noble metal compatible, which are ideal for handheld consumer devices. ECAs are lead-free solder alternatives for active and passive component attachment.
Henkel's electrically conductive LOCTITE® adhesives offer strong component and PCB interconnections for on-demand, long-term, and reliable performance. A broad portfolio of ECAs in paste mediums are formulated using a variety of base chemistries including acrylate, epoxy and silicone platforms, designed to provide manufacturers with choice and flexibility for varying application requirements.
ECAs are designed to provide reliable interconnects and to be used for applications that require very fast cure at low temperatures. Most adhesives are multipurpose and can potentially be used as Encapsulants, die attach or even Underfills.
Product Selector Guide
Electrically Conductive Adhesives
Product
Description
Volume resistivity (Ω*cm)
Glass transition temperature (°C)
CTE a1
CTE a2
Tensile modulus @25°C
Recommended cure
Key attributes
Acrylate
Loctite Ablestik CA 3556HF
Acrylate electrically conductive adhesive
2.5 × 10-3
-30
95
278
650
2min @110°C

One component
Fast, low-temp cure
Low contact resistance

Loctite Ablestik ICP 8282
Snap cure, cost effective acrylate conductive adhesive
3.7 x 10-3
-
-
-
1000
10sec @150°C 

High print speed
Flexible interconnects

Epoxy
Loctite Ablestik 3888
Epoxy adhesive kit for repair/rework of interconnections
0.1 x 10-3
50
50
-
-
24h @25°C

Temp Solder replacement
Repair kit

Loctite Ablestik CE 3103WLV
Epoxy electrically conductive adhesive
8 × 10-4
114
45
225
4,500
10min @120°C

Rigid. Ideal for Sn, Ni, non noble
Pb-free alt to solder
Stable contact resistance

Loctite Ablestik CE 3104WXL

Epoxy adhesive for SMD component attach on Sn, Sn/Pb and OSP coated Cu substrates

-
100
40
190
-
3min @150°C

Controlled particle size
Rigid. Ideal for Sn, Ni, non noble
Ultra fine pitch resolution

Loctite Ablestik CE 3920
Epoxy adhesive for SMD interconnect formations, lid attach and cap attach assembly.
3 x 10-4 
119
29
130
-
5min @ 150°C

Stencil printable
No post cure

Loctite Ablestik ICP 3535M2
Epoxy for circuit adhesive applications for mounting Sn finished components.
2 x 10-3
96
-
-
-
10min @ 175°C

Ideal for Sn, Ni, non noble
Rigid. For small size components

Silicone
Loctite Ablestik ICP 4000
Silicone electrically conductive adhesive
6 × 10-5
-45
-
330
101
60min @130°C

Great elongation
Noble metallization
High electrical current carrying capability

Loctite Ablestik ICP 4001
Silicone electrically conductive adhesive
4 × 10-4
-
-
370
40 @0°C
35min @140°C

High flexibility & adhesion
Noble metallization
High operating temp

Loctite Ablestik ICP 4015
Conductive Silicone with high flexibility and excellent electrical conductivity
1 x 10-4
-
-
-
 
30min @80°C

200°C operating temp
Very low cure temp

Loctite SI 5421
Conductive Silicone for bonding, gasketing of EMI/RF shielded enclosures
1 x 10-2
- 
-
-
-
24h @ 25°C

Room temp cure
Tack free in 1h @ 25°C
---
Frequently Asked Questions
Frequently Asked Questions about Electrically Conductive Adhesives (ECA)
Below is a list of frequently asked questions about the electrically conductive materials we supply. The list is far from exhaustive, so if you have a question, please contact us and we'll see if we can help you with your question.
Can electrically conductive adhesives be used to bond aluminum to aluminum?
Nearly all ECAs and conductive die-attach materials will form a conductive bond with aluminum. However, the bond will degrade (higher electrical conductivity and lower adhesion) with aging time, due to progressive oxidation of the aluminum. The degradation may not be a concern for "consumer" devices, where the operating environment may not be very harsh, the operating life is short, and/or the performance requirements are not severe.
None of the current products we offer can guarantee high-reliability long-term on aluminum substrates (especially the conductivity will suffer). There have been product development projects in the past to develop an ECA that was filled with very sharp filler flakes to punch through the oxidation layer of the aluminum substrate, but also this did not work in the end and the project was abandoned.
How well do Silicone materials bond to plastics and metals?
Silicone materials are challenging as they have very low surface tension (like PTFE) preventing good wetting of the adhesive. Silicones are also chemically resistant, meaning that you can't use any solubility to melt or diffuse into the polymer matrix like you can with other materials such as polyamide (PA). Moreover, silicones are usually flat or smooth, so you can't interlock with the roughness. Last but not least, no substrate can be bonded to an adhesion level that is higher than the substrate's tensile strength or modulus. This means that elastomers like silicone which have low modulus like 2-5 MPa will simply deform and peel when the adhesive load gets higher than these levels. Obviously, if the tensile strength is low, then you will get substrate failure at that level before you reach adhesive failure. The net effect of all of these effects is that the bond strength to silicone with any adhesive is typically limited to less than 1 MPa, meaning "non-structural" level for engineering designs that require a reliable bond.
However, taking these aspects into account, silicones can be bonded with .... silicones ! But in that case the adhesion strength limitation (or failure mode) may be moving to the metal substrate side. If the required adhesive strength is relatively low, you can consider silicone based adhesives like LOCTITE SI 5140 and SI 5145  that are RT vulcanizing or LOCTITE ABLESTIK ABP 8035 that is heat curable.
What chemistry is best for electrically conductive adhesives?
The choice of chemistry will depend on the final properties of the adhesive that you are trying to maximize.
Silicones are ideal for higher temperature applications or if you also desire high-flexibility or high-elongation in your application. Acrylics or acrylates are best if you desire a very fast cure, or if you want the lowest contact resistance. Epoxies have a good balance between electrical performance, high reliability or low CTE and Tg combinations.
---
Learn More
Versatile Electrically Conductive Adhesives
Electrically conductive adhesives are ideal for use in thermal, electrical interconnect and structural bonding applications for improved reliability in electronic systems.
For manufacturers that require both electrical performance and thermal dissipation functionality, Henkel's electrically conductive materials are the most proven, trusted adhesives on the market.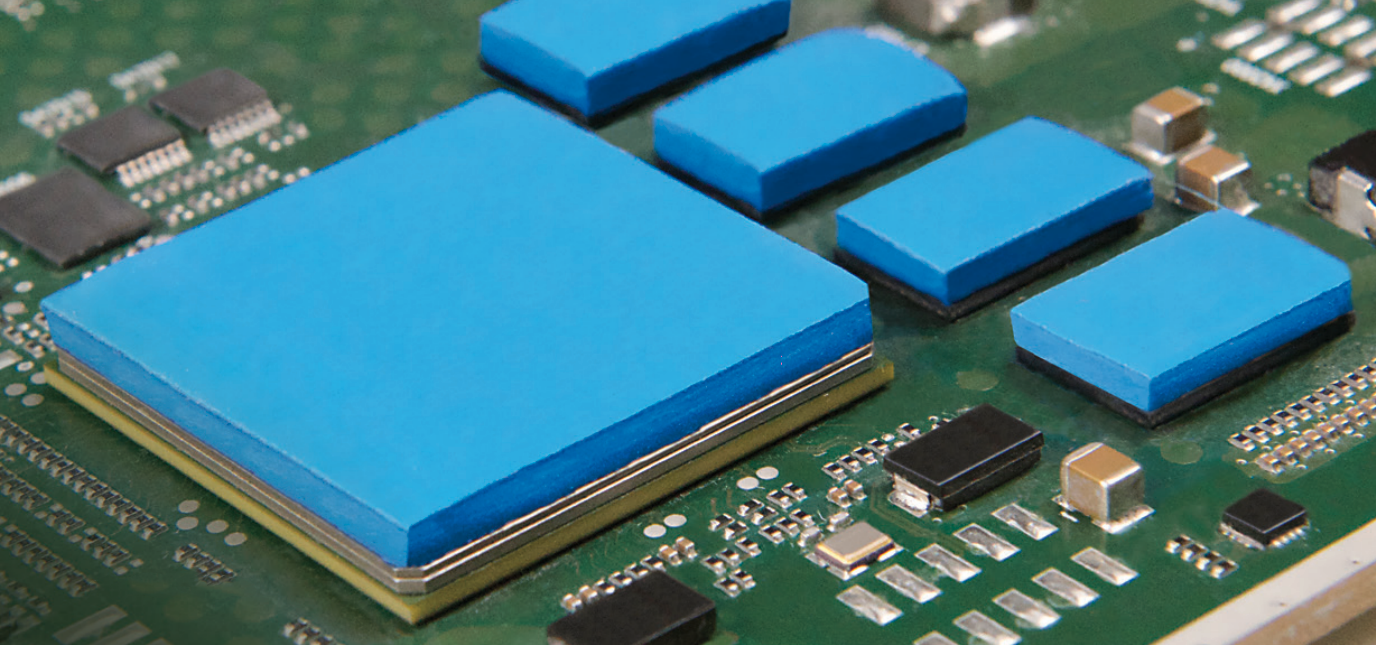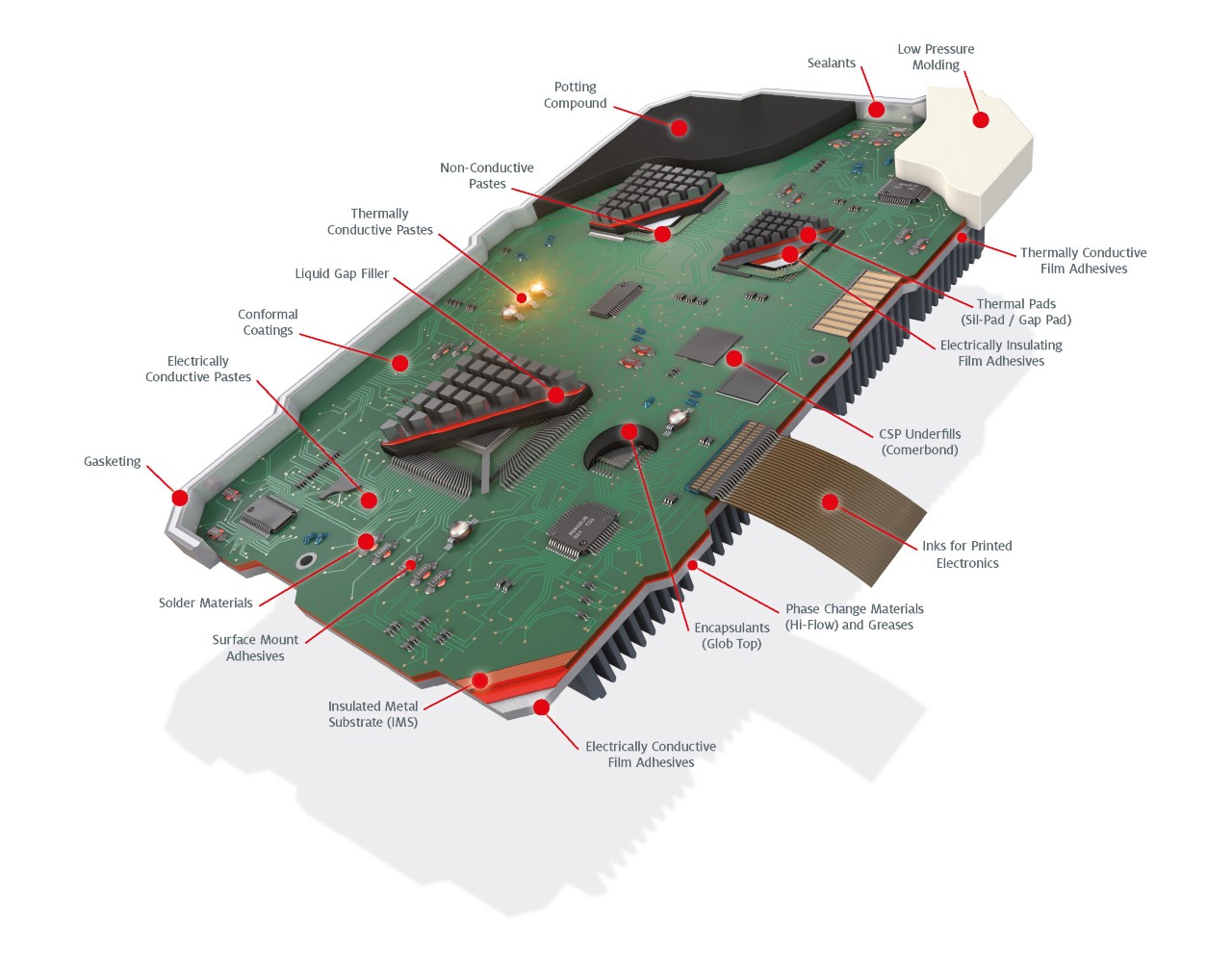 Snap Cure Conductive Adhesives
Snap curable conductive adhesives provides excellent adhesion and reliability, cure times of less than two minutes, and in-line processing capability for exceptionally high throughput. For applications with large coefficient of thermal expansion (CTE) mismatches between substrates, or fine-pitch flip-chip interconnections where electrical conductivity is desired in only one direction, Henkel has an electrically conductive adhesive to meet the challenge.
Heat Cure Conductive Adhesives
Electrically conductive heat cure adhesives are required for a number of manufacturing challenges such as die to substrate bonding, passive component attach and the bonding of heat-sensitive components. The Henkel line includes products from such trusted brands as LOCTITE® ECCOBOND and LOCTITE® ABLESTIK, , with varying cure speeds, viscosity and pot life.
Room Temperature Cure Adhesives
Our electrically-conductive adhesive products cure at room temperature and can be used for bonding and sealing applications for heat-sensitive devices that require superior electrical and mechanical properties, with no heating equipment required.
Two-Component Conductive Adhesives
Two-component electrically conductive adhesives require no refrigeration or freezer storage and include products that provide high peel and tensile lap shear strength over a broad temperature range; as well as silver-filled epoxies recommended for electronic bonding and sealing applications that comply with the requirements of NASA's outgassing specification.