Emitters
Optocoupler/Photocouplers consist of an infrared LED (Lightning emitting device) and a photosensitive receiving device optically coupled into the same package. What this does is allows electrical signals to be passed from the input to the output circuit; separated by an isolation barrier that is designed to withstand high voltage levels. It allows for the isolation of high and low-voltage components reliably. This finds its way into many applications for safety reasons, as well as to prevent the damaging of expensive or important electrical components.
Single and Double Mold Optocouplers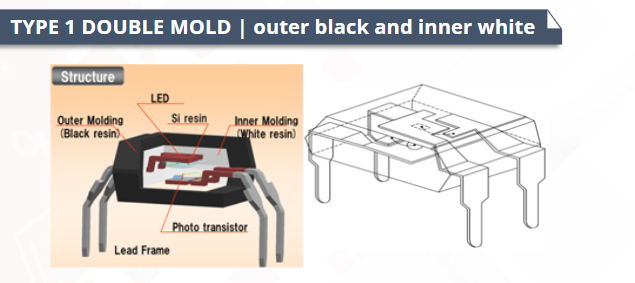 In this package, the inside white molding compound provides high light reflectance for planar structure and transmittance for single to pass through; the outer black epoxy molding compound largely improves the package reliability with moisture resistance and low thermal stress, compared with single mold design.
Key Material Considerations
Inner White
Light transmittance >25%@1mm

Dielectric voltage test (@6.3kV after 1hr@125°C PMC)

Anti-blue decay < 20% @125°C, 1000hrs

Bleed/Flash control, no wire sweep and voids
Outer Black
MSL3 precondition tests (125°C/4hrs bake, 3 x IR reflow@260°C)

Thermal cycling tests (-55~125°C, 300cycles)

PCT (2atm/121°C/100%RH)

Red ink penetration test (20mins immersion after PCM)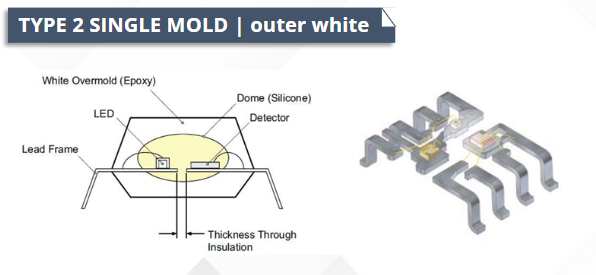 The white molding compound with TiO2 pigment added brings high reflectivity. It reflects the light signals from LED to the detector as much as possible. Since it also works as outside protection, it needs to ensure the reliability of the devices.
Key Material Considerations
High light reflectance (>80%)

High thermal and humidity resistance

Anti-yellowing against heat and UV

Good adhesion to silicone

Good moldability, no flash/bleed, and wire sweep

Pass required reliability tests after MSL preconditioning
Pulse oximeters
Pulse oximetry is often called the fifth vital sign. More medical professionals than ever check blood oxygen saturation (SpO2). Blood red cells contain a protein called hemoglobin. Oxygen saturation is defined as the measurement of the amount of oxygen dissolved in blood, determined by comparing the values of Oxy-hemoglobin (HbO2) to Deoxy-hemoglobin (Hb).
A pulse oximeter is a non-invasive electro-optical device for measuring both the heart rate and oxygen saturation. This quantity is inferred by measuring the optical transmittance of perfused skin in different wavelengths of light. One method for doing this is by shining both a red LED and an infrared LED into a body part (such as a finger or wrist) and then measuring and comparing the relative intensities of the light from each LED in terms of a ratio, which is expressed as the percentage of oxygen saturation.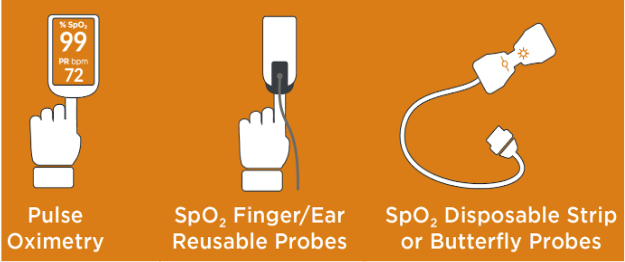 Package
SOP4, SOP5, SOP8, SOP16, DIP4, DIP6, DIP8, etc
Devices
Transistors, IGBT drive gate, TRIAC, etc.
Typical Operating Environment
-55°C~110°C
Typical Reliability Tests
JEDEC MSL3 to MSL1

High-temperature storage: 150°C x 1000 hrs

Temperature cycling: -55~125 °C x 1000 cycles

uHAST: 168 hrs @130°C and 85%RH

Temperature humidity bias: 1000hrs @85°C, 85%RH, Vcc

Resistance to soldering heat: 1 x 10s @260°C
*MSL preconditioning was performed prior to temperature humidity bias, thermal cycling, and HAST.
Two different light wavelengths are used to measure the actual difference in the absorption spectra of HbO2 and Hb. The bloodstream is affected by the concentration of HbO2 and Hb, and their absorption coefficients are measured using two wavelengths 660 nm (red light spectra) and 880 to 940 nm (infrared light spectra). Deoxygenated and oxygenated hemoglobin absorb different wavelengths. Deoxygenated hemoglobin (Hb) has a higher absorption at 660 nm and oxygenated hemoglobin (HbO2 ) has a higher absorption at 940 nm.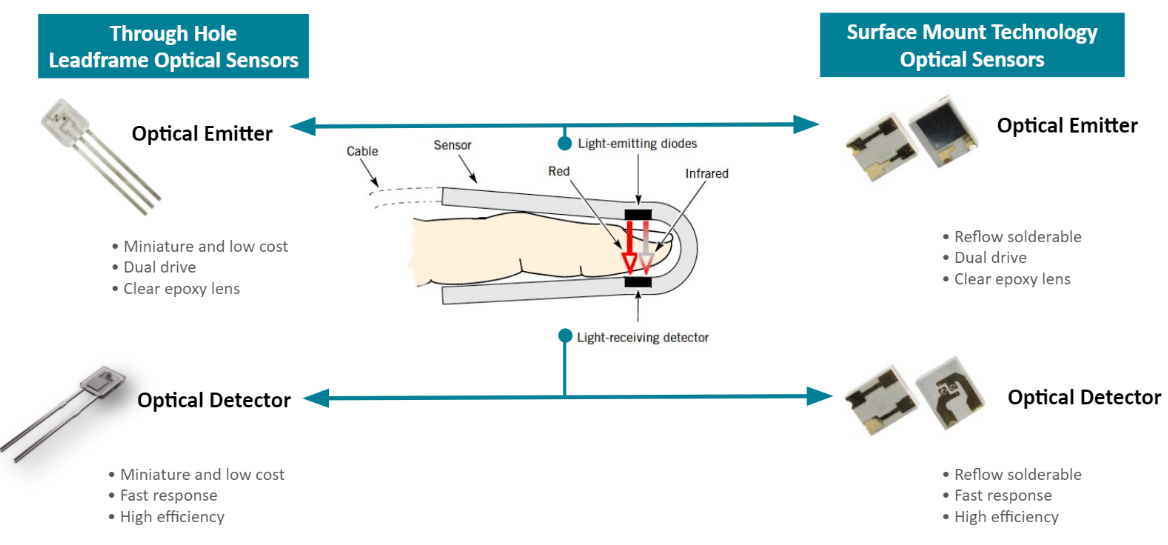 White reflective mold compounds
White, highly reflective epoxy molding compounds, also abreviated as WMC, are epoxy molding compounds that are filled with a highly reflective filler that stays reflective even after exposure to heat and UV for long periods of time. We offer a range of highly reflective, white, non-yellowing epoxy mold compounds for led packages and lighting applications that require a high-performance non-yellowing compound with high brightness and reflectivity. After the plant closing of KYOCERA in Singapore, a lot of customers are seeking for substitutes of Kyocera KE-96/KE-95
We are happy to say that we have developed multiple alternatives to Kyocera KE-96/KE-95 with high reflectivity and you can contact us to request samples.
PROPERTY

KE-96A

KE-96A5

GT-W170-2

GT-W170-15

GT-W170-6

Epoxy Resin

OCN

OCN+Confidential

Multi-functional +BPA

OCN

Confidential

Hardner

PN

Confidential

Anhydride

PN

Confidential

Filler Content

78%

76%

70~75%

70~75%

70~75%

Filler Shape

Crush

Crush

Crush

Crush + Spherical

Crush

Specific Gravity

2.12

2.05

1.98

1.96

1.89

Light Reflectance 0.5mm @800nm

87~89%

75~79%

93%

91%

91%

Light Reflectance 0.5mm @940nm

89%

77%

92%

89%

90%

Reflectance & heat Resistance

◼︎◼︎◼︎◼︎

◼︎◻︎◻︎◻︎

◼︎◼︎◼︎◻︎

Moisture Resistance

◼︎◼︎◻︎◻︎

◼︎◼︎◼︎◻︎

◼︎◼︎◻︎◻︎

Molding Shrinkage & Stress

◼︎◼︎◼︎◻︎

◼︎◼︎◻︎◻︎

◼︎◼︎◻︎◻︎

Moldability

◼︎◼︎◼︎◻︎

◼︎◼︎◼︎◻

◼︎◼︎◻︎◻︎

Continuous Moldability

◼︎◼︎◻︎◻︎

◼︎◼︎◼︎◻︎

◼︎◼︎◻︎◻︎

Key Advantage

High whiteness

High reflectance

Oxidation-resist

High MSL

Good moldability

Balanced performance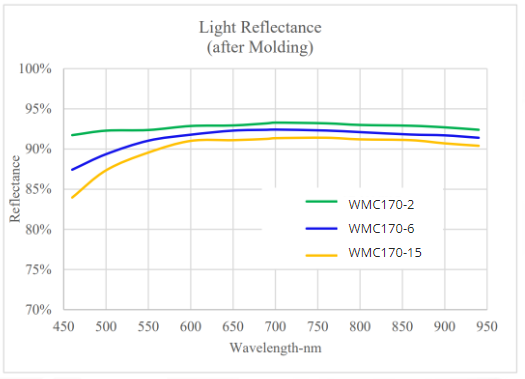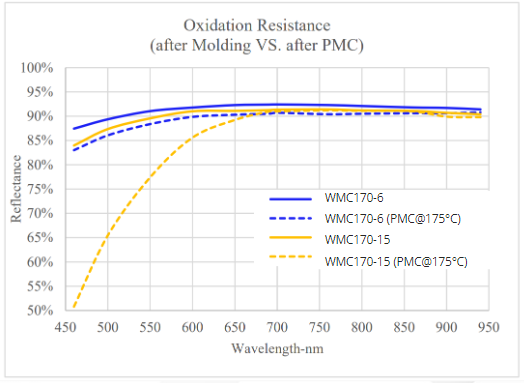 Yellowing By Oxidation
WMC170-15: Only the surface contacting with air shows yellowish color, however, the inner material shows no color change.

WMC170-2: No color change by heat oxidation

WMC170-6: No color change by heat oxidation
| | | | | |
| --- | --- | --- | --- | --- |
| PROPERTY | Units | WMC170-2 | WMC170-15 | WMC170-6 |
| Gel Time | Sec | 43 | 28 | 22 |
| Spiral Flow | inch | 55 | 52 | 29 |
| Hot Hardness @ 170°C *120s | Shore D | 65 | 77 | 75 |
| Hot Hardness @ 170°C *200s | Shore D | 75 | 85 | 78 |
| Specific Gravity | - | 1.98 | 1.96 | 1.89 |
| Flash 5μm | mm | 0.8 | 12.1 | 1.1 |
| Flash 10μm | mm | 1.1 | 7.2 | 1.3 |
| Flash 15μm | mm | 1.2 | 7.7 | 1.4 |
| Flash 20μm | mm | 1.4 | 8.3 | 1.2 |
| Flash 50μm | mm | 33.6 | 26.4 | 7.4 |
Optically clear molding compounds
Optically clear encapsulants provide durable clarity, high product yields, superior process characteristics, and high reliability. Clear epoxy Mold compounds have different filler and chemistry than most common EMCs. Optically clear compounds are also used for LED devices, and to encapsulate optical or optoelectronic devices that require both a high level of light transmittance as well as a good level of mechanical protection. In a similar process to Glob Top encapsulation, a literal glob of clear encapsulant is dropped directly into place on top of the LED. In other production processes, optically clear compounds are used to cast the LED's final body. Phosphor, colored dyes, and diffusant concentrates can be added to this liquid encapsulant to fine tune it to your needs and alter its optical properties.
TC-8020 series is a high transmission optically clear epoxy molding compound that is specifically developed for emitter and LED encapsulation. Its excellent fluidity design helps it to become easily moldable and processable while offering excellent package performance and durability. This is supported by its long-term transmittance and post reflow reliability. It offers good adhesion to Bismaleimide Triazine - BT substrates and metal leadframes, good flexural modulus, and excellent anti-reflow performance while also passing the stringent MSL 3/2A JEDEC requirements.
Long term high transmittance
TC-8020T Standard: >90% Transmittance over 450nm
TC-8020T-IR800: Absorption between 340 - 700nm; >90% Transmittance over 800nm


TC-8020T-IR840: Absorption between 340 - 840nm; >90% Transmittance over 840nm


High Refractive Index of 1.56 for max


Customizable, application-specific filters available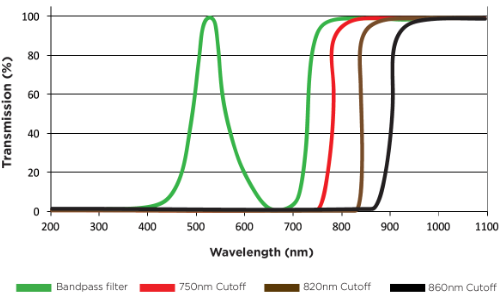 High Reliability Performance
Low moisture absorption

Resist 1,000 hours yellowing up to 125℃

Competitive results in various reliability tests
Pass MSL 3/2A JEDEC requirements.
Good adhesion to BT substrates and metal leadframes

Good flexural modulus

Excellent anti-reflow performance

TC-8020LS low stress version also available
Applications:
Low-Power LED Encapsulation

Optical Emitter

Gesture Detection Sensors

Ambient Light Sensors

IR and Near-IR Sensors

Data transmission and industrial fibers.

PROPERTY

Units

XX-330HQ

TC-8020L

TC-8020T-SR

-
-

Standard

Low Stress Versions

Self-Release

Viscosity

Pa.s

400

300

300

200

300

Spiral Flow @ 150°C

inches

45

40

48

48

40

Hot Plate Gel Time @ 150°C

sec

29

40

32

32

27

Glass Transition Temperature

°C

125

125

115

100

125

CTE by TMA, Alpha1

CTE by TMA, Alpha2

ppm/°C

71
180

70

170

70
170

70

220

70

170

Moisture absorption PCT
24 hr @ 25°C in water

wt%




-




0.17




0.16




0.17




0.17

2atm*100%RH*24hr@121°C

wt%

2.9

3.2

3.2

3.8

3.2

Flexural Strength @25°C

Flexural Modulus @25°C

MPa

MPa

130
2960

135

3050

135
3000

130

2950

135

3050

200°C * 4 hr, yellowing ∆b

-

25

5

8

25

5

280°C * 30 min, yellowing ∆b

49

33

42

45

37

UV * 4 hr, yellowing ∆b

26.5

11

16.5

16.5

11

Transmittance @450nm,1mm

%

>90

>90

>90

>90

Refractive Index @633nm

-

1.52

1.56

1.56

1.56

1.56

Comment

STD Item

STD Item for through-hole and surface mount component

MSL3

Low stress

For better reflow performance

MSL3

Even lower stress for better reflow and thermal shock test performance

MSL3

Self-release technology without compromising vital properties