Light Emitting Diodes
Light emitting diodes are light emitting dies that get their color or hue through the phosphor that is coated on top of the die. They are typically blue tinted and are getting their color from a combination of the phosphor, the die light intensity and the overmolded optoelectronic molding compound. There are multipl LED types for a huge variety of applications, ranging from simple through hole mono chrom LEDs to backlight, organic, miniLEDs and industrial baylights. All of these LED types have the same principle but completely different application and reliability requirements.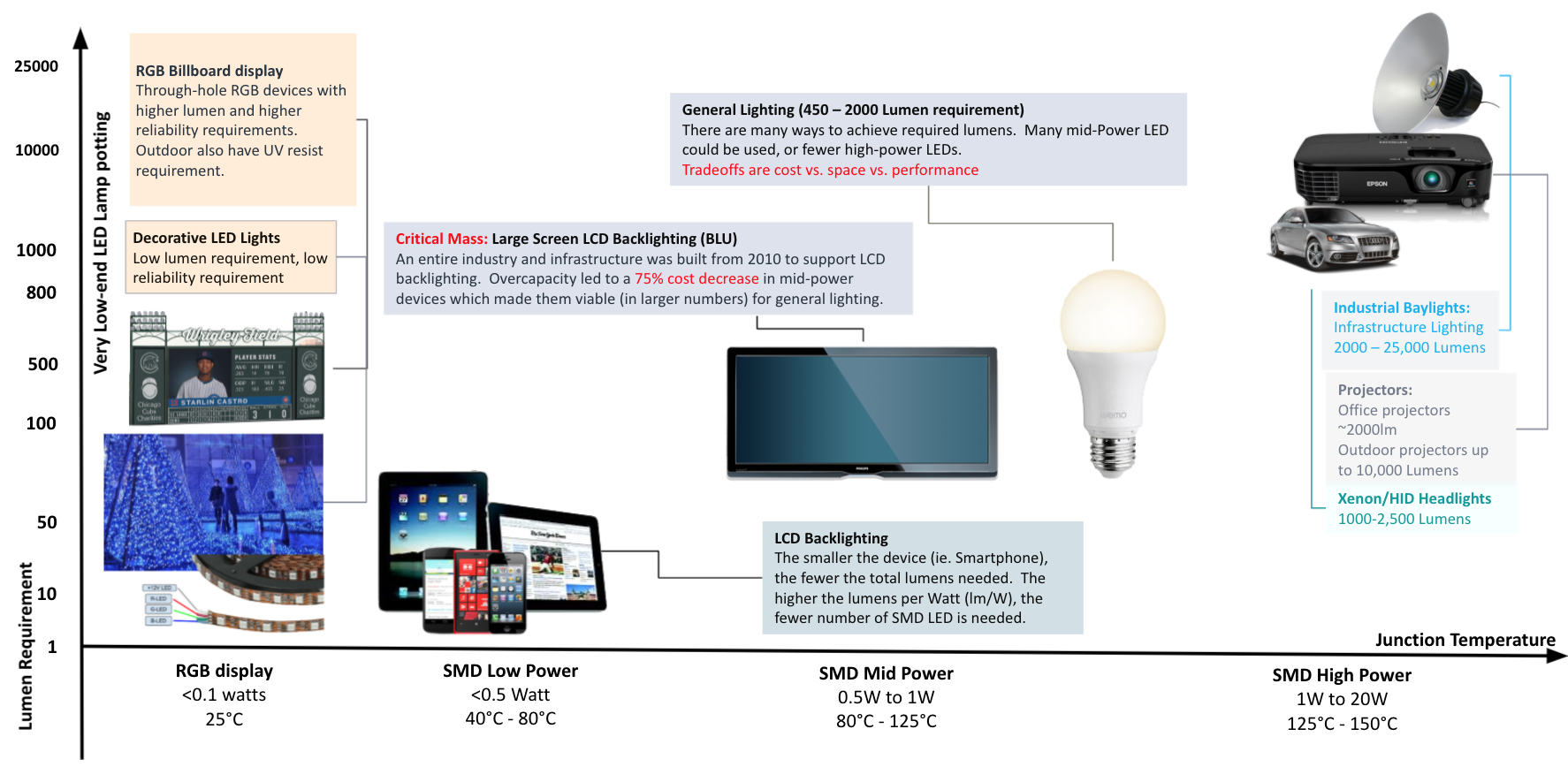 General Considerations For LED Encapsulants
As LED encaplants, besides general consideration of packaging materials, optical performance with long-term reliability is specially emphasized.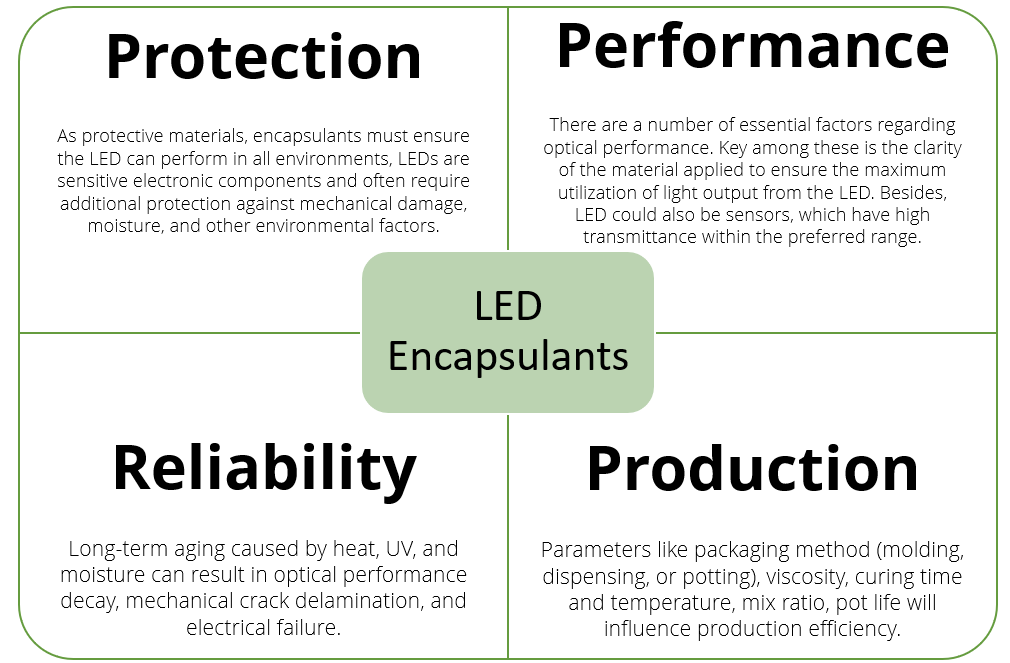 Challenges & Solutions
Challenges

Problem Description

Encapsulation Solutions

Light Extraction

Refractive index mismatch between LED die (~1.58) and encapsulants, affecting energy output efficiency

High RI (refractive index) encapsulant

Delamination

Stress failure caused by CTE mismatch among encapsulant, die and lead frame during curing or temperature shifting;
Moisture absorption and ions corrosion
Adhesion issue

Matched CTE and low modulus materials
Excellent adhesion to substrate
Moisture resistance material with high purity

Thermal-Yellowing

Thermal degradation and discoloration induced by high junction temperature between die and leadframe

High Tg epoxy encapsulant with high cross-link and strong INP
Add anti-yellowing agents
Silicone based encapsulants

UV-Yellowing

Photo degradation induced by UV radiation from LED die and outdoor UV

UV transparent encapsulant
Silicone based encapsulants

Aging/Lifetime

Aging caused by thermal and UV degradation
Aging will result in mechanical failure, transmission decay and discoloration

Above All
Sensor Transmission

High transmission within application wavelength to avoid disturbing signals

Add dyes as cut-off or bandpass filter
LED Product overview
Monochrome LEDs

HD RGB LEDs

White LEDs

Product

TC-8020

(Star Product)

TC-8040

TC-7600

(Popular Product)

TC-7800

(In Development)

TC-8030

TC-8060

(Popular Product)

TC-8090

(In Development)

Summary

Good adhesion to BT substrate/metal leadframe

Adequate flexural modulus/strength

Excellent anti-reflow performance.

Good processability and moldability

Great moisture resistance property

Enable LED display pass hash durability tests

Ensures uniform colours and uniform emitting light at large angles

Reduce warpage

Excellent anti-yellowish performance at high temperature

Reduced light decline by blue/white light

Excellent adhesion to Ag/Cu and PCB substrate

Good moldability and higher reliability

Two optional forms: cylindrical tablets, and fine powder

Applications

7-segment LED display, compact LED indicator, monochrome Chip LED, photo-link

High density (fine-pitch) RGB LED display

Decorative White LED

Backlight

High Reliability

Backlight

Light Decline

Aging Test

-

Medium

10-50%

RT*20mA*500hrs

Medium

10-50%

RT*5mA*1000hrs

Low

<50%

RT*20mA*500hrs

High

<10%

RT*5mA*1000hrs

Reliability Tests

Reflow, TCT, 85℃@85%RH

Reflow, TCT, 85℃@85%RH, PCT

Reflow, TCT, 85℃@85%RH

Highlight

Low stress and filter versions available

High reliability

Mid blue-ray decay

Low blue-ray decay

Low blue-ray decay

High anti-yellowish

Low cost

Low blue-ray decay

Low blue-ray decay

Anti-moisture

Comparable

XX-18, XX-1012, XX-8524

XX-600H

XX-600H

XX-600H-94000

XX-1014, XX-8524

XX-1000, XX-814, XX-97

XX-1000, XX-814, XX-97

Child Product

TC-8020L/LS low-stress

TC-8020T-SR self-release version

TC-8050 for large package


TC-8034 with low decay

TC-8036 with low decay


Low CTE product TC-9000T with transparent filler

TC-8060 IMP low modulus version



Die Attach For LEDs
LOCTITE ABLESTIK ABP 8037TI silver-filled die attach adhesive paste is specifically designed to attach small diodes in high volume manufacturing. Even more specifically, it is the highest volume silver-filled die attach paste for high reliability LED attach and manufacture when using small die on Au-finished leadframes. Used in high-volume manufacturing throughout China and Malaysia.
Also extremely popular:
LOCTITE ABLESTIK 84-1LMISR4 is a manufacturer's product of choice, can be used for LED applications and like most epoxies it is suitable for Copper substrates.
One alternative:
LOCTITE® ABLESTIK ABP 8035M is a non-conductive clear silicone designed for high brightness LED die attach applications.
Non conductive option:
LOCTITE ABLESTIK QMI536NB creates packages and devices that have high resistance to delamination and popcorning after multiple exposures to lead-free solder reflow temperatures. It has good optical performance with high transmittance, Optical Density and HRI and is a great solution for ASIC attach and LED attach.