Semiconductor Mold Maintenance
Semiconductor mold cleaners, conditioners and release sprays allow thermosets and thermoplastics to easily come out of the mold after molding. Conditioners protect and lubricate the mold , cleaners assist in removing the pollutants and stains from the mold surface and release sprays allow for the end products to be easily released from the mold without leaving residues.
Whether you use conventional molding or auto molding, manufacturers of semiconductor devices need to perform mold maintenance of their molds after using epoxy molding compounds. CAPLINQ offers a full range of semiconductor mold maintenance products to help manufacturers get their molds clean, conditioned and humming  as quickly as possible.
Aerosol carnauba wax spray, rubber cleaning, waxing or conditioning sheets, melamine cleaning pellets or melamine compression products are all integral parts of our product range. Please continue to our Learn More section to learn more about the trends in cleaning and conditioning products, the differences between the various types available and the environmental choices and considerations.
Frequently Asked Questions
Which Cleaner works better ? Melamine or rubber?
In our experience, melamine is a much more efficient cleaner. Efficient means that you need fewer cleaning shots to get the mold clean and the molds ends up cleaner than if you'd use only rubber cleaning sheets.
The ideal and recommended cleaning schedule involves a cycle of both melamine pellets and rubber sheets and depends on your manufacturing equipment and your cleanliness requirements.
So why are melamine cleaners less popular than rubber cleaning sheets?
In a word: Formaldehyde. Formaldehyde is the active cleaning agent in the melamine cleaning compounds and since January 1st of 2016, formaldehyde has been reclassified as a Carcinogen Category 1B.
Caplinq is happy to offer "Green" and Carcinogen free melamine cleaning compounds with minuscule Formaldehyde content (>0.1%). We can suggest a combination of materials for a safe and efficient cleaning and conditioning schedule.
---
Learn More
The CHEMLINQ Product Family
Epoxy molding compound (EMC) used in the semiconductor and LED encapsulation process leaves a build-up of stains and residues inside and on the surface of mold die after each run. If left unchecked, along with the build-up of mold release agent, this can eventually lead to increased molding defects, longer downtime, lower production yield, and a shorter overall service life of your transfer and compression molding equipment. All of which means that after a certain number of shots you will have to have some down time to stop production to clean your mold.
Some pieces of Plant Production Equipment are beautiful engineering masterpieces, almost works of art. While employees will come and go, these faithful metal beasts remain ever loyal: continuing to work for decades, even centuries. So though semiconductor molding equipment costs a fortune, and it 's important to get the biggest return on your investment that you can, it's also important to treat them with the dignity and respect that they deserve. Preventative maintenance for semiconductor and LED molding and encapsulation equipment begins and ends with regular mold cleaning and mold surface conditioning.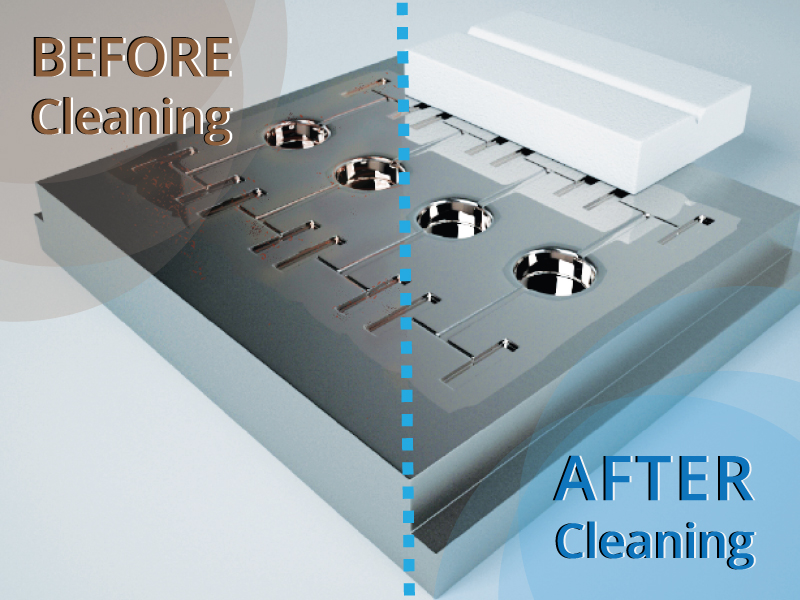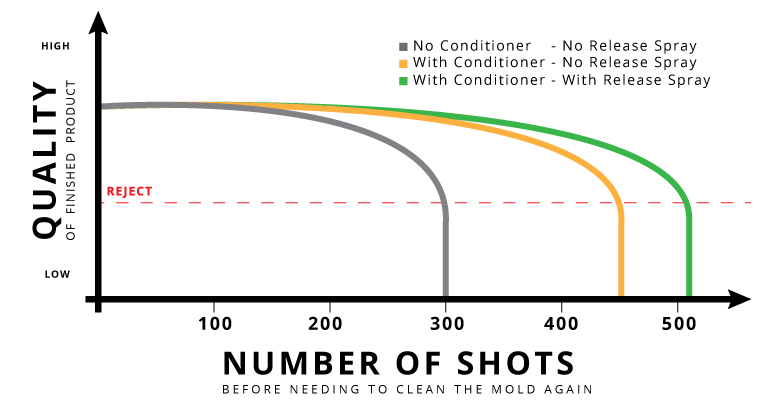 With our expertise as a supplier and manufacturer of Epoxy molding compounds, CAPLINQ has built up years of experience working with the chemistry behind EMC mold stains and residues. So now, to compliment our range of epoxy molding compounds, CAPLINQ introduces CHEMLINQ: our range of mold cleaning sheets and compounds, surface sealers and conditioners, and mold release sprays. The CHEMLINQ product family works as a series of standalone products or holistically as a total package to help you care for and maintain your precious molding equipment. The number of shots between cleans, and so the length of a production cycle, can be extended using a mold conditioner after a mold cleaning sheet and extended even further when this is used in conjunction with mold release spray.
Melamine Cleaning Compounds and Rubber Cleaning Sheets
CHEMLINQ Semiconductor and LED Mold Cleaners
On a microscopic level every surface has microporosity, and so even when it come to the glossy metal surface of a mold die, there are 100's and 1000's if micro-pores on which dirt and contaminants can latch on to. However, when using Epoxy Molding Compound (EMC) a thoroughly clean mold die surface is essential for the semiconductor and LED encapsulation molding process. Our CHEMLINQ semiconductor mold cleaners are specially designed to attack Epoxy Molding Compound residues and stains on the micron level and thoroughly clean the microporous surfaces of your thermoset and thermoplastic molding equipment. Click here to find out more about our Semiconductor and LED mold cleaning products.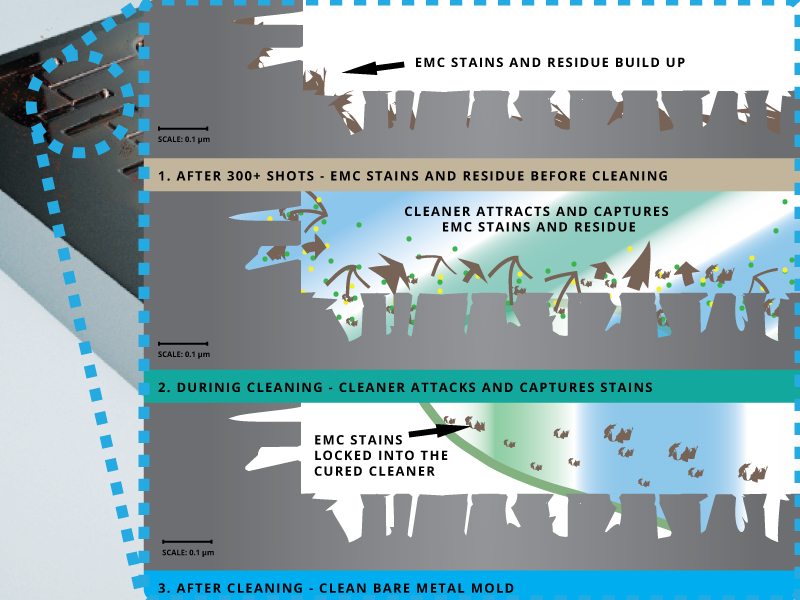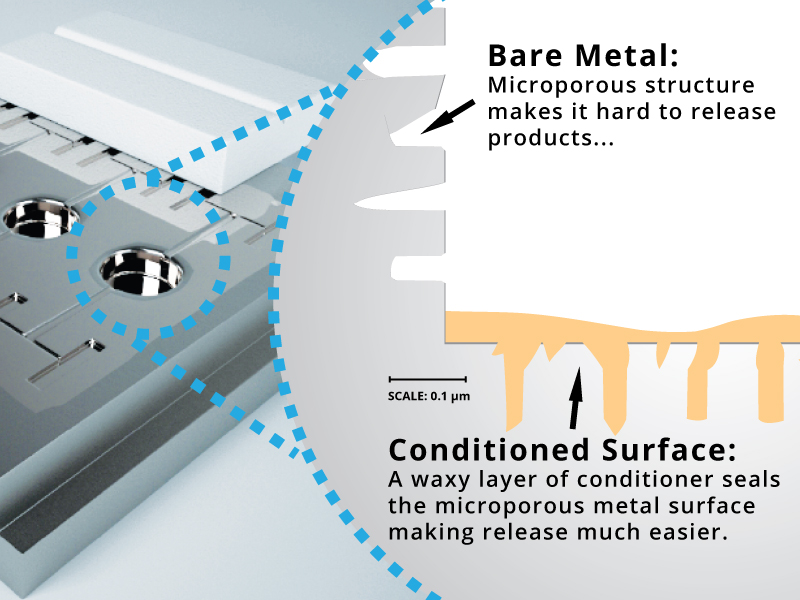 Wax Conditioning Sheets for Semiconductor and LED molds
CHEMLINQ Mold Sealers and Conditioners.
Especially after cleaning your mold with melamine cleaning compound the microscopic roughness and microporosity of the bare metal surface are exposed which makes it difficult to release your product from the mold, and also lowers the quality of the surface of your finished product. Even the effectiveness of a mold release spray depends on how well the mold's surface has been conditioned or sealed.
CHEMLINQ mold conditioners can help increase quality, productivity, and increase the lifespan of your equipment by sealing the microporous surface of your mold. Click here to find out more about Mold conditioning products.
Mold Release Agents, Substitutes, and Spray
CHEMLINQ Mold release sprays
The mold conditioner is eroded away, little by little, after each shot, so over time the microporous structure of the mold's metal surface becomes exposed. When this happens Epoxy Molding Compound will start staining the mold surface and the finished product will become harder to release from the cavity: lowering final product quality and production speed.
Mold release agents and sprays can deliver higher productivity and lower scrap rates by forming a protective layer over exposed bare metal surfaces. They are essential if your product is complicated, multi-part, or has low green strength. Mold release also helps improve final product quality: giving your products an improved gloss finish. A spray is also the perfect form for application during production and between shots. To find out more about our CHEMLINQ mold release agents and sprays click here.