GCP 1805 | Halogen-free Insulating Epoxy Coating Powder
GCP 1805 | Halogen-free Insulating Epoxy Coating Powder
Harmonization Code : 3907.30.00.90 |
Polyacetals, other polyethers and epoxide resins, in primary forms; polycarbonates, alkyd resins, polyallyl esters and other polyesters, in primary forms : Epoxide resins : Other
Main features
Blue and Gold Colors
Halogen-free Epoxy Coating Powder
For class 2 & 3 capacitors and varistors
Product Description
LINQSOL™ GCP1805 is an insulating epoxy coating powder for capacitors, varistors and other passive components.  It was designed specifically as a halogen-free version of DK18-05 with similar technical specifications, just without containing any of the halogens.
LINQSOL GCP-1805 epoxy coating powders can be applied through a fluidized bed with temperatures as low as 105°C. Its excellent curing conditions make the epoxy coating powder also very suitable for tantalum capacitors and other temperature-sensitive devices.
LINQSOL™ GCP1805 epoxy coating powders are laser markable and are rated with a UL 94 V-0 flammability and RTI rating of 130°C.
Typical Applications:
Class 2 & 3 ceramic capacitors and varistors
Though-hole tantalum capacitors
Resistors like bendable thermistors, surge resistors
Inductors like toroid powder cores
Versions Available:
Wide range color options -  blue, brown, gold, black
Low stress version for passing thermal cycling test 
Technical Specifications
General Properties
Chemistry Type
Epoxy
Color

Color
The color

Blue
Density (g)
1.5 g/cm3
Process Method
Fluidized bed
Specific Gravity

Specific Gravity
Specific gravity (SG) is the ratio of the density of a substance to the density of a reference substance; equivalently, it is the ratio of the mass of a substance to the mass of a reference substance for the same given volume.

For liquids, the reference substance is almost always water (1), while for gases, it is air (1.18) at room temperature. Specific gravity is unitless.

0.6-0.85

Shelf Life

Shelf Life
Shelf life is the amount of time after manufacturing that a product is guaranteed to retain its properties.

It differs vastly per product and it is based on temperature and storage conditions.

The properties can be guaranteed for the temperature and time range indicated on the TDS since those are the ones tested to be the best for the product.

Shelf Life @ 15°C
6 months

Chemical Properties
Water Absorption
0.3% %
Electrical Properties
Breakdown Voltage

Breakdown Voltage
Breakdown voltage is the minimum voltage necessary to force an insulator to conduct some amount of electricity.
It is the point at which a material ceases to be an insulator and becomes a resistor that  conducts electricity at some proportion of the total current. 

After dielectric breakdown, the material may or may not behave as an insulator any more because of the molecular structure alteration. The current flow tend to create a localised puncture that totally alters the dielectric properties of the material.

This electrical property is thickness dependent and is the maximum amount of voltage that a dielectric material can withstand before breaking down. The breakdown voltage is calculated by multiplying the dielectric strength of the material times the thickness of the film.

>20,000 V
Volume Resistivity

Volume Resistivity
Volume resistivity, also called volume resistance, bulk resistance or bulk resistivity is a thickness dependent measurement of the resistivity of a material perpendicular to the plane of the surface.

1.0x1015 Ohms⋅cm
Thermal Properties
Glass Plate Flow

Glass Plate Flow
Glass plate flow determines the flow distance of thermosetting epoxies, resins or coating powders on a smooth inclined glass surface in a certain time and temperature.

This value is the distance in millimetres from the upper point of the original position of the pellet to the point of extreme flow.

Typically measured at 150°C but please check the TDS for more info

25 - 35 mm
Glass Transition Temperature (Tg)

Glass Transition Temperature (Tg)
The glass transition temperature for organic adhesives is a temperature region where the polymers change from glassy and brittle to soft and rubbery. Increasing the temperature further continues the softening process as the viscosity drops too. Temperatures between the glass transition temperature and below the decomposition point of the adhesive are the best region for bonding.

The glass-transition temperature Tg of a material characterizes the range of temperatures over which this glass transition occurs.

108-112 °C
UL 94 Rating

UL 94 Rating
Flammability rating classification.
It determines how fast a material burns or extinguishes once it is ignited.

HB: slow burning on a horizontal specimen; burning rate less than 76 mm/min for thickness less than 3 mm or burning stops before 100 mm
V-2: burning stops within 30 seconds on a vertical specimen; drips of flaming particles are allowed.
V-1: burning stops within 30 seconds on a vertical specimen; drips of particles allowed as long as they are not inflamed.
V-0: burning stops within 10 seconds on a vertical specimen; drips of particles allowed as long as they are not inflamed.
5VB: burning stops within 60 seconds on a vertical specimen; no drips allowed; plaque specimens may develop a hole.
5VA: burning stops within 60 seconds on a vertical specimen; no drips allowed; plaque specimens may not develop a hole

V-0
Other Properties
Certifications

Certifications
Confirmation of tested functions, characteristics of a product.

UL 94 V-0
RoHS Compliant

RoHS Compliant
RoHS is a product level compliance based on a European Union Directive which restricts the Use of certain Hazardous Substances in Electrical and Electronic Equipment (RoHS).

Products compliant with this directive do not exceed the allowable amounts of the following restricted materials: lead, mercury, cadmium, hexavalent chromium, polybrominated biphenyls (PBB) and polybrominated diphenyl ethers (PBDE), with some limited exemptions

Yes
---
Additional Information
Low Melting Temperature & Long Flow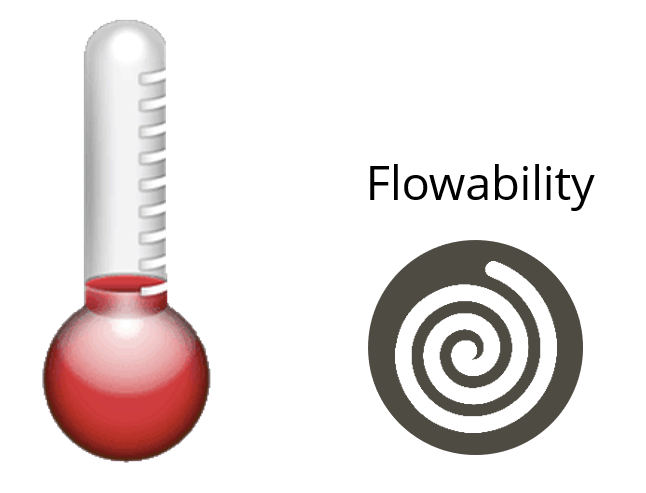 GCP 1805 has low melting temperature (<70 °C) and low curing temperature (<105°C). Its excellent flow properties (35mm) together with low pick up temperature enables coating components without pinholes problem. 
Halogen-free & UL-listed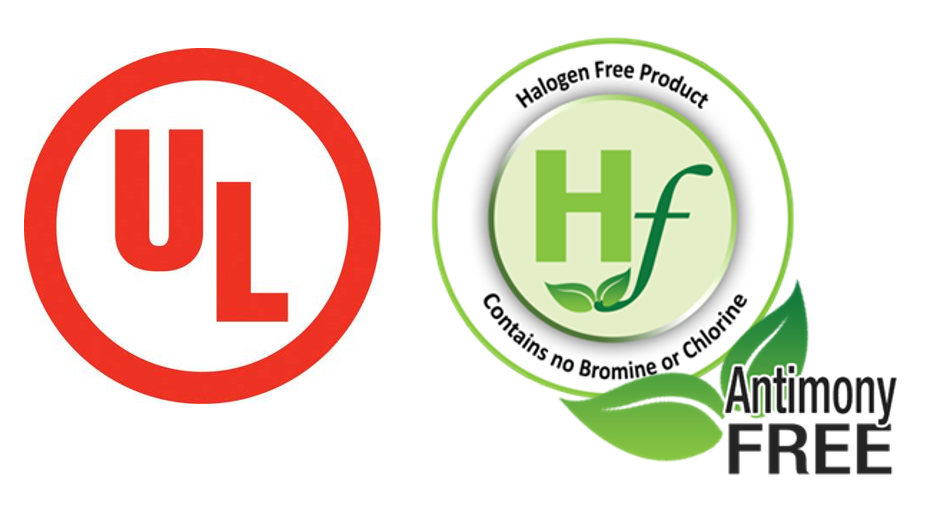 GCP 1805 is halogen-free powder, complying with RoHS and REACH requirements. GCP 1805 is also UL-listed with a V-0 flammablity and RTI rating of 130 °C. Thus, it is widely used in the industries for passive components coating.
Wide Color Selection & Cost Effective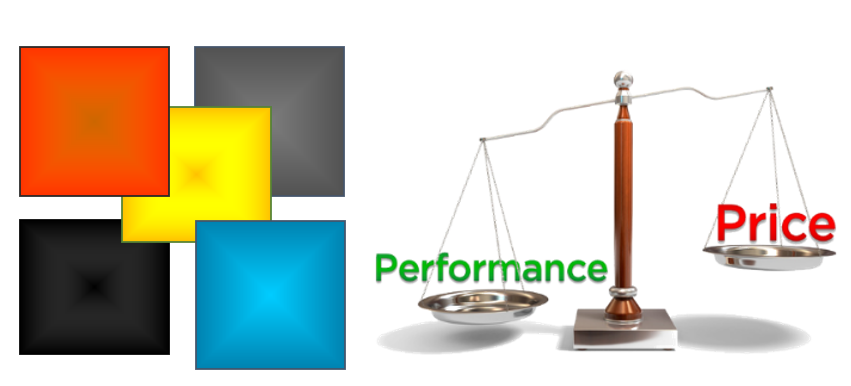 GCP 1805 powders are available in blue, brown, golden, orange and black, etc. It presents excellent fluidization in dipping equipment. Meanwhile, it provides the best price/performance ratio for your coating process. 
Shelf Life @ <25°C
3 months (from date of shipment)
Shelf Life @ <15°C
6 months (from date of shipment)
Volume Resistivity (Ohms

⋅

cm)
1.0 x 1015
Breakdown Voltage (kV/mm)
>20
Dielectric Constant @ 25°C 50Hz
<0.009
UL Rating
UL94 V-0 Level
Tg (°C)
108-112
Solvent Resistance
No fading/loss of light in 120s acetone soak
Specific Gravity
0.6-0.85
Water Absorption (Boiling at 100°C for 4 H)
<0.3%
Gel Time @ 120°C (sec)
80-110
Oblique Flow @Tilt angle 45°, oven 120°C (°C)
25-35
Melting Point (°C)
55-70
Horizontal Flow @ 120°C for 30 minutes (mm)
20-24
GCP 1805 Main Applications 
Linqsol GCP1805 is an UL 94 V-0 listed halogen-free product and pass UL RTI rating of 130 °C. With excellent dielectric properties and low moisture absorption, GCP1805 works best for your passive component applications, including capacitors, resistors, inductors, etc.
GCP 1805 For Toroid Cores Insulation
Inductor powder cores are coated with epoxy powders to insulate and protect the core from copper wires. To maintain stability and avoid affecting magnectic properties or inductance values, epoxy coating powders must minimize core stress by having low shrinkage and low moisture absorption. 
Key Application Considerations
Magnetic property retention (inductance & loss) is critical
Parts are made in continuous manufacturing process
Reducing core stress maintains stability of inductance value
Parts are preheated, but not post-cured
Key Material Requirements
Low temperature curing and fast cure speed
Low shrinkage to reduce core stress
Low moisture absorption to reduce core stress
GCP 1805 Competitive Analysis
It could be seen from the table that the properties of GCP1805 are quite similar to DK18-05. The important features are the optimized pickup temperature and the low cure temperatures as low as 110°C. GCP1805 is expected to have a similar coating performance as DK18-05. It is suggested to coat GCP1805 powder for your passive components under the same preheating and curing conditions for DK18-05. Based on the trial results, the coating process could be further adjusted and optimized.
PROPERTY / PRODUCT
DK 18-05
GCP 1805
Comment
Recommend Cure Conditions
 
 
 
Preheat Temperature
100 ~ 180 °C
100 ~ 180 °C
Same
Cure Conditions
30 mins @ 110 °C
30 mins @ 85~105 °C + 120 mins @ 105 °C
Both could be cured under relatively low temperature
Pick Up Temperature
Stick Point: 110 °C
Melting Temperature: 55~70 °C
Sticky point/melting tempearture indicate low and quick pick-up
Halogen-free

NO

YES
GCP 1805 is halogen-free, better than DK 18-05
RoHS/REACH Compliant
YES
YES
Same
Available Colors

●

●

●

●

●

●

●

Similar
Typical Cured Properties
 
 
 
Specific Gravity
1.64 g/cc
0.6 ~ 0.85 g/cc
Lower
Glass Plate Flow
32 mm @ 150 °C
20 ~ 24 mm @ 120 °C
Both have long plate flow
Hot Plate Gel Time
23 sec @ 160 °C
80 ~ 110 sec @ 120 °C
Not comparable
Glass Transition Temperature Tg
107 °C
108 ~ 112 °C
Similar
Moisture Absorption By Weight
0.37 % @ 24 hrs RT water
< 0.3% @ 4 hrs boiling water
Low moisture absorption
Flammability Rating UL94
V-0
V-0
Same
Relative Thermal Index (RTI) Rating UL 743B
105 °C
130 °C
GCP 1805 has higher RTI rating Class B
Laser Markable
YES
YES
Same
Volume Resistivity @ 25°C
8.4 x 1013 Ω · cm
1015 Ω · cm
Similar
Dielectric Constant @ 25°C
4.5 @ 100 Hz
4.5 - 5.2 @ 100 Hz
Similar
Dissipation Factor @ 25°C
0.009 @ 10 kHz
0.009 @ 10 kHz
Similar
Breakdown Voltage
TBD
> 20 kV/mm
Good insulation
GCP 1805 With Nanoproof Treatment for Passive Electronics Components