LOCTITE ABLESTIK BSP 125
Harmonization Code : 7115.90.00.00 |
Other articles of precious metal or of metal clad with precious metal : Other
Main features
Reworkable
Laser Markable
MSL 1 for WLCSP
Product Description
LOCTITE ABLESTIK BSP 125 black hybrid film is designed for WLCSP back side laser marking and chip protection applications. A package using this material will have an overall improvement in package reliability.
LOCTITE ABLESTIK BSP 125 facilitates the production of highly miniaturized WLCSP devices. It exhibits high MSL reliability, low warpage and consistent bondline thickness. It is typically used for die attach in WLCSP applications as a controlled flow adhesive. It passes 1000 cycles TS-B testing and 168hours PCT.
Cure Schedule
30 minute ramp to 150°C + 1 hour @ 150°C
30 minute ramp to 130°C + 2 hours @ 130°C
Technical Specifications
General Properties
Adhesive Thickness

Adhesive Thickness
Adhesive thickness indicates the thickness of an adhesive layer.

It refers to the adhesive thickness of a single side so for double sided tapes it always needs to be multiplied.

25 µm
Total Thickness

Total Thickness
Total thickness is taking into account all the films, coatings, adhesives, release liners and special layers and is the maximum thickness of a film or tape.

107 μm
Work life @25°C

Work life @25°C
Work life is the amount of time we have to work with a material until it is no longer able to be easily worked and applied on a substrate.

It is based on the change in viscosity and it can rely on the application requirements.

720 hours
Mechanical Properties

Tensile Modulus

Tensile Modulus
Tensile modulus is a mechanical property that measures the stiffness of an elastic material. It is the slope of stress / strain curve of a material under direct tensile loading.

It can be used to predict the elongation or elastic deformation of an object as long as the stress is less than the tensile strength of the material. Elastic deformation is caused by stretching the bonds between atoms and the deformation can be reversed when the load is removed.

Tensile modulus is affected by temperature and is an important engineering attribute since we generally want to keep elastic deformation as small as possible.

Tensile Modulus @150°C
1,461 N/mm2
Tensile Modulus @25°C
8,101 N/mm2
Tensile Modulus @250°C
148 N/mm2

Thermal Properties

Coefficient of Thermal Expansion (CTE)

Coefficient of Thermal Expansion (CTE)
CTE (Coefficient of thermal expansion) is a material property that is indicative of the extent to which a material expands with a change in temperature. This can be a change in length, area or volume, depending on the material.

Knowing the CTE of the layers is helpful in analyzing stresses that might occur when a
system consists of an adhesive plus some other solid component.

Coefficient of Thermal Expansion (CTE), α1

Coefficient of Thermal Expansion (CTE), α1
CTE α1 (alpha 1) is the slope of the Coefficient of thermal expansion in a temperature range below the Glass transition temperature (Tg).

It explains how much a material will expand until it reaches Tg.

45 ppm/°C
Coefficient of Thermal Expansion (CTE), α2

Coefficient of Thermal Expansion (CTE), α2
CTE α2 (alpha 2) is the slope of the Coefficient of thermal expansion in a temperature range above the Glass transition temperature (Tg).

It explains the extent to which a material will expand after it passes Tg.

130 ppm/°C

Glass Transition Temperature (Tg)

Glass Transition Temperature (Tg)
The glass transition temperature for organic adhesives is a temperature region where the polymers change from glassy and brittle to soft and rubbery. Increasing the temperature further continues the softening process as the viscosity drops too. Temperatures between the glass transition temperature and below the decomposition point of the adhesive are the best region for bonding.

The glass-transition temperature Tg of a material characterizes the range of temperatures over which this glass transition occurs.

162 °C
---
Additional Information
Wafer-level Chip Scale Packages (WLCSPs) certainly rank among the key enablers of smaller, thinner, higher functionality devices that are driving advances in mobility, integration and expansive connectivity (IoT). Undoubtedly, the mobile phone market has been the primary catalyst for the growth in WLSCP packages in recent years, though there are several other applications that benefit from the thinner, higher-density ball count capabilities of modern-day WLCPS. While mobile phones will remain important consumers of WLCSPs, the trend toward prolific connectivity through new wearable devices, among other technologies, will help maintain the 15% [1] annual growth rate projected for WLCSPs over the next two years.
With the decreasing dimensions and finer ball pitches come increasing wafer processing and handling challenges. Die chipping and cracking, wafer warpage and damage during the SMT placement process onto the PCB substrate are all potential obstacles that have to be overcome for high-yield WLCSP production. Recent advances in film technology have resulted a new class of materials that help alleviate some of the traditional obstacles with handling and reliability of WLCSPs. Novel backside protection (BSP) films offer packaging subcontractors a technique that helps reduce mechanical damage, while improving laser marking performance and reliability.
Some of the more notable film innovations in recent years have come from Henkel Adhesive Electronics. The industry's first conductive die attach films were introduced by the materials leader in 2011, while other significant film successes include thermal formulations and non-conductive die attach materials. Building on the company's know-how in this field, Henkel has developed a unique Backside Protection (BSP) film to enable production of today's WLCSP devices.
The BSP film application process is simple and allows use of established lamination and dicing equipment. BSP film is laminated onto the wafer, heat cured and laser marked. Dicing tape is then applied prior to die singulation. It is a clean, dry process and allows for elimination of the fillet, while limiting outgassing and bleed.

LOCTITE ABLESTIK BSP 100 can accommodate various bondline requirements and helps eliminate the need for subsequent mold compound processes. The material is black in color, which not only promotes high visibility of laser markings, but also serves to block light and provide surface protection, helping to keep the circuit surface free from any handling damage.
One of LOCTITE ABLESTIK BSP 100's primary competitive advantages is its excellent reworkability on both 8" and 12" wafers. In the event that the film needs to be removed from the wafer, LOCTITE ABLESTIK BSP 100 is easily peeled off the wafer, leaving no residue. The packaging subcontractor can then reapply the film as per the process noted above. In testing, competitive materials, particularly with respect to 12" wafers, have shown removal difficulty which can result in wafer damage or the requirement for subsequent cleaning steps.
As for its laser marking clarity, LOCTITE ABLESTIK BSP 100 has exhibited excellent laser marking performance both prior to cure and after reflow, as shown below. This is critical, as the device ID is essential to inventory management, quality control and process tracking.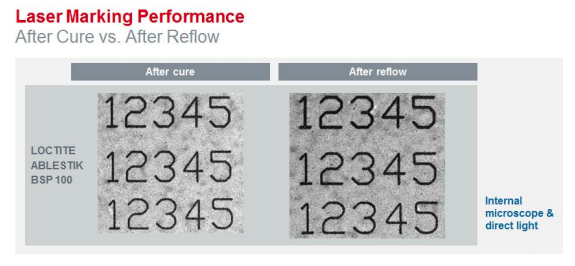 Warpage performance is also an advantage of LOCTITE ABLESTIK BSP 100. After reflow, the Henkel material showed less than half the warpage exhibited by competitive materials. It has little thickness change from pre-cure to post-cure, delivering stability and uniformity. And, when it comes to reliability, LOCTITE ABLESTIK BSP 100 is also superb. The material passed MSL1 (3x reflow), thermal cycling testing of 500 hrs., pressure cooker testing (PCT) of 168 hours with excellent adhesion after cure and no delamination after thermal cycling.
While WLCSPs have been part of the miniaturization conversation for years, their ability to push dimensional limits has been inhibited by handling and processing challenges. Henkel's new LOCTITE ABLESTIK BSP 100 sets the stage for improved WLCSP reliability and product integration, overcoming past obstacles and enabling future development. - H.Jung (Henkel)