MEMS Sensors
Application Introduction
MEMS ( Micro-Electro-Mechanical System) is a semiconductor technology that manufacture an electronic mechanical system on a silicon wafer. This mechanical system can convert external physical and chemical signals sensed by MEMS chips into electrical signals. ASIC further processes and transmits the electrical signals generated by the MEMS chip to the next-level circuit.
MEMS are widely applied in today's electronics products – from handheld to medical to automotive devices. In smartphones, the ability to scroll faster, talk on microphones with noise canceling capability and leverage location navigation via position sensors are all based on MEMS technology. See the illustration diagram of microphones and pressure sensor MEMS devices below.

In automotive integration, MEMS technology is applied in pressure sensors, speed sensors, air flow sensors, magnetometers, and accelerometers, which are critical elements to proper automobile function and efficiency. Although those devices are similar in their requirement for MEMS and sensor capability, the application and design considerations are very different. For handheld devices, space is at a premium and dictates exceptionally small dimensions with MEMS devices that contain thin, fragile features. With automotive MEMS devices and other sensor technologies, sensitivity level and high temperature compatibility are key considerations. See the illustration diagram of accelerometers/gyroscopes/magnetometers MEMS devices below.

Materials Applied In MEMS
As last section discussed, in MEMS there are materials like die attach paste / film, lid attach adhesive, liquid encapsulants or molding compound applied depending on different designs. The key requirements of adhesive materials are as follows: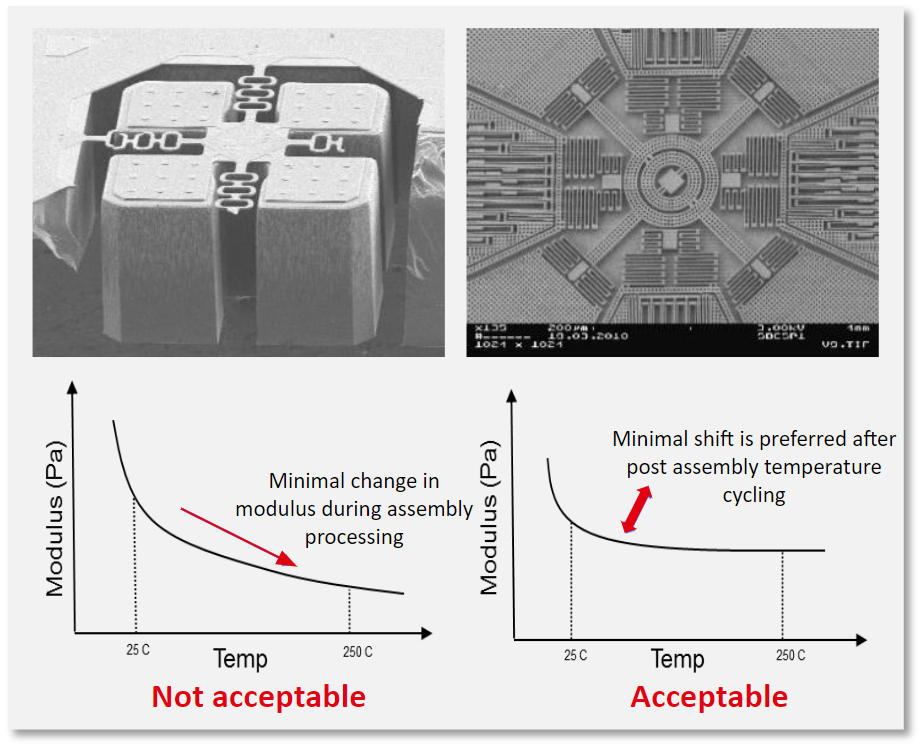 MEMS Application Key Considerations
Main Application Concerns
MEMS dies are very sensitive and fragile
Response sensitivity (stability) key challenge to control functionality
Die bending in case of stress variation leading to (re)calibration issues
Potential die cracking in case of high stress
Preferred Material Properties
Low stress, low warpage and low temperature cure materials are required
Low and constant modulus over operational temperature range preferred for accurate and stable sensor performance
Low temperature cure below 100°C to minimize stress in package
High adhesion on LCP & metal finishes
Low outgassing
Product Recommendations For MEMS
SOLUTION
TYPE
PRODUCT
FEATURE

ASIC Attach

&

MEMS Attach

Non-conductive None-Silicone Paste

LOCTITE ABLESTIK QMI 536NB
Medium modulus and fast curing "No Bleed" dispense paste being widely used for die attach in automotive sensor and finger print applications
Non-conductive None-Silicone Paste
LOCTITE ABLESTIK QMI 538NB

Lower (100 MPa) modulus version of QMI 536NB being widely used in MEMS microphones from beginning

Non-conductive Silicone Paste
LOCTITE ABLESTIK ABP8142B

Silicone based die attach adhesive with ultra low and constant modulus and high adhesion designed for stress sensitive MEMS and Sensors

Lid or Cap Attach
Conductive Silicone Paste
LOCTITE ABLESTIK ICP4000/4001
Ag filled paste running in automotive HVM applications requiring high flexibility over broad temperature range (up to 200°C)
Conductive Silicone Paste
LOCTITE ABLESTIK ICP4015
Modified for temperature sensitive applications (<100ºC cure)
Encapsulation
Glob Top Liquid
LOTTITE ECCOBOND FP 4802
High purity phenolic encapsulant with low warpage and excellent flow properties allowing the material to penetrate fine pitch wires and deep cavities; MSL2 targeting and TCT -65~150°C
Epoxy Molding Compound
HYSOL GR9810-1P(F)
High Tg and very low mold shrinkage; Develop for high reliability sensors and modules; ATF resistence, targeting MSL1
Comments:
ABLESTIK ABP 8142B (to be SIL 3003B) – Silicone based die attach adhesive with ultra low and constant modulus and high adhesion designed for stress sensitive MEMS and Sensor applications
LOCTITE ABLESTIK ICP 4000 / 4001 Ag filled SILICONES running in automotive HVM applications requiring high flexibility over broad temperature range (up to 200°C)
LOCTITE ABLESTIK ICP 4015 modified for temperature sensitive applications (<100ºC cure)
QMI 536NB – Medium modulus and fast curing "No Bleed" dispense paste being widely used for die attach in automotive sensor and finger print applications
QMI 538NB – Lower (100 MPa) modulus version of QMI 536NB being widely used in MEMS microphones from beginning