Graphitized Carbon Papers
Porous Graphitized Paper and Panels
CAPLINQ offers the full range of Engineered Fibers Technology Gas Diffusion Layers (GDL) products. Please click here to get an overview of all the Gas Diffusion Layer products offered by EFT Fibers, or click on the following link to be directed immediately to the range of Activated Carbon Fabric products.
Spectracarb 2050 Series Porous Graphitized Sheets and Panel
Spectracarb™ 2050 Gas Diffusion Layer (GDL) sheets are porous "graphitized" resin bonded carbon fiber papers and multi-ply panels specifically designed for use in PEM, DMFC and PAFC fuel cells, Electrolyzers, Humidifiers and Other Electrochemical Devices
These products are optimized for the following properties:
Electrical Conductivity
Mechanical Strength and Durability
Gas/Air Permeability
Water Management
Spectracarb GDLs are produced in the USA and are available in a wide range of standard and custom grades, densities, sizes and materials for fuel cells, electrolyzers, humidifiers, specialty batteries and other electrochemical applications.
Read More about Graphitized Carbon Papers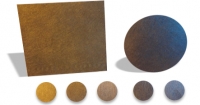 Spectracarb 2050A Series
Gas Diffusion Layer Sheets
Carbon fiber
---
Product Selector Guide
Graphitized Carbon Sheet Comparison Table
General
Specific
Application
Spectracarb GDL Series
Spectracarb
2050A
Spectracarb
2050HF
Spectracarb
2050HT
Spectracarb
2050L
Spectracarb
2050P
Spectracarb
2050WP
Top of Page
Energy
Industry
Energy Storage, Fuel Cells
Fuel Cells
PEM / DMFC / PAFC
Redox Flow Batteries
Electrolyzers
Humidifiers
 
 
 
 
 
Product Properties
 
Range of Densities Available
0.25 g/cc to 1.0 g/cc
Range of Thicknesses Available
5 mils to 200 mils
125 micron to 5000 micron (5mm)
Standard Grade
 
 
 
 
 
Increased Permeability
 
 
 
 
 
Higher Electrical Conductivity
 
 
 
 
 
Improved Corrosion Resistance
 
 
 
 
 
Lower Max Temperature / Lower Cost
 
 
 
 
 
Higher Purity / Trace Elements <0.5ppm
 
 
 
 
 
Wet-Proofed / Microporous Hydrophobic Layer
 
 
 
 
 
---
Learn More
Advantages of EFT Fibers' Spectracarb Series GDLs
Spectracarb GDL has a specific technology focus:
Widest Range of Production Grades Available
Lower Cost Products
Small / Specialty Orders Accepted
Experimental & Developmental Formulations (Laboratory /Pilot Scale)
Contract Research /Joint Development Programs for Special Requirements
Established 22 Year Manufacturing History (Spectracorp Founded 1991)
Spectracarb GDL 2050 Series Sizes, Thicknesses and Densities
All of the Spectracarb 2050 Series GDL sheet sizes are 400 x 400 mm for thin (paper) grades, and 450 x 450 mm for laminated panels, with sizes up to 550 x 550 mm available as special order. Sheet thicknesses range from as low as 5 mils (125 micron) to as thick as 200 mils (5 millimeters). Densities of the panels range from as low as 0.25 g/cc to 1 g/cc. Custom sizes, machined discs, and other customer defined sizes and shapes, as well as machining such as channels and surface grinding are also available.
Spectracarb GDL 2050 Series Grades
2050 A: Standard grade 2050A is our base series graphitized paper and panels used mainly in PEM fuel cells and electrolyzers. Properties of thin papers comparable with other GDL's used in industry, but with wider selection of density and thickness.
2050 HF: Other special grades include "2050 HF" with higher mean pore size and increased permeability.
2050 HT: Spectracarb GDL can also be manufactured in the density and thickness ranges shown above, but using modified processing to achieve higher electrical conductivity and improved corrosion resistance with our "2050 HT" Series for use in PAFC and other special products.
2050 L: Spectracarb GDL thin papers and thicker panels can also be provided on special order in a "2050 L" grade which is carbonized at a lower maximum temperature to provide a lower cost product for humidifiers and other special products.
2050 P: Both papers and panels can also be provided on special order in our "2050 P Series" where additional purification can be conducted to provide trace elements
2050 WP: Wet proofed grades incorporating a microporous hydrophobic layer of any of the Spectracarb series can be provided through a partner company.
Customer Specific Grades: It is also possible to make Hybrid constructions in the Multi-layer constructions. Contact us to discuss any special requirements, or for the design and production of grades for your specific requirement.
Spectracarb GDL Porous Graphitized Paper and Panels
Please use the table below to select the product that best fits your requirements.